EE alumnus and property tech cofounder to give Chambers Lecture Oct. 15
When Ben Taylor, BE'15, launched Doorport, he focused on owners of large apartment buildings who might upgrade secure access to their buildings to make life easier for residents.
The idea had clicked when he glanced at the wall intercom unit in his new apartment and wondered why he could not simply use his smart phone to let visitors into the fairly new building. Doorport became an aftermarket intercom add-on for residents to admit guests, including delivery people, from wherever they were. The device itself was a small, thin box meant to be tucked into an empty space for existing intercom systems.
It worked great. As many entrepreneurs discover, however, the larger market opportunity was the one less obvious at the beginning.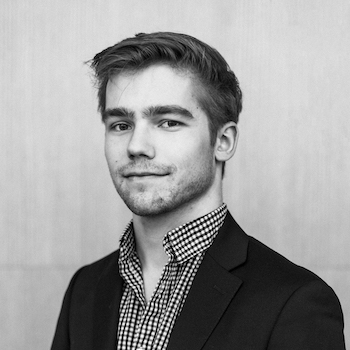 Taylor, who runs Doorport from New York City, will share his journey on October 15 as part of The Chambers Family Entrepreneurial Lectureship series, which is endowed by the Chambers Medical Foundation.
The talk, which is free and open to the public, begins at 4:10 p.m. in Room 132 in Featheringill Hall. A reception will follow in the atrium.
Doorport launched in 2016 and was in the winter 2019 cohort at Y Combinator, a prestigious Silicon Valley accelerator. The company has been featured in TechCrunch and The New York Times, among others. Investors include MetaProp, Kairos and Sinai Ventures.
Earlier this year Doorport expanded its focus towards software integrations with delivery and logistics companies. In effect, Taylor said, the company is building an "Amazon Key" for everybody else. Residents with Amazon Key and a smart lock use the mobile app to grant access to contacts, and drivers use a delivery app to drop off packages.
"We want to enable businesses to deliver products to consumers on time, every time, starting with a focus on enabling secure, unattended deliveries into apartment buildings," Taylor said.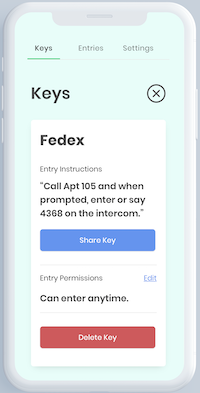 The company recently launched a new software-only product that lets anyone upgrade their building access simply by replacing their intercom listing's phone number. Apartment managers and residents can sign up for easily and independently and create "keys" with instructions for expected deliveries, whether from FedEx, GrubHub, the Thai place down the street or a favorite retailer.
"Our timeline now focuses on distributing our software to property management firms as well as directly to residents, with paid pilots with delivery companies in the works over the coming months once we reach a critical mass of apartments," said Taylor, who grew up in the Nashville area.
He majored in electrical engineering and went to work for Epic as a business intelligence developer after graduating from Vanderbilt. While a student, Taylor also had internships with the Vanderbilt Center for Technology Transfer and Commercialization, Global Stories, Ltd., and QMSI.
Contact: Brenda Ellis, (615) 343-6314
brenda.ellis@Vanderbilt.edu
Posted on Sunday, September 22, 2019 in Chambers Family Entrepreneurial Lectureship, entrepreneur, startups, Y Combinator,Alumni, Electrical Engineering and Computer Science, Home Features, News, News Sidebar