EE graduate student takes top prize in Three Minute Thesis competition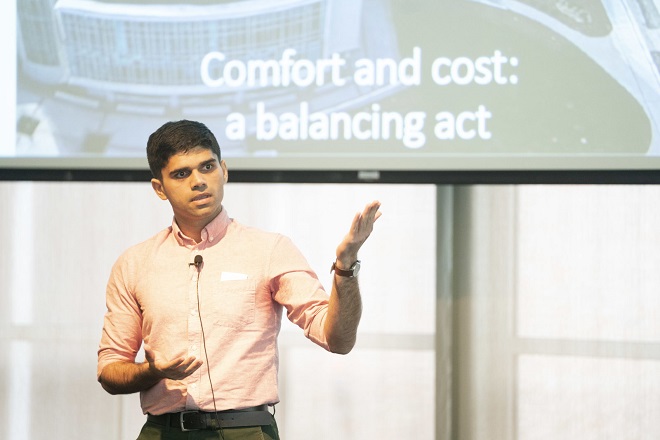 An electrical engineering graduate student took the top prize is this year's Three Minute Thesis (3MT) competition with a presentation on designing fault-tolerant control systems using data-driven methods.
Without really saying it that way.
Ibrahim Ahmed presented "Comfort and cost: A balancing act," which centered on his research to find the critical temperature at which air conditioning systems of large buildings are no longer energy efficient. His research has included analysis of the energy consumption of HVAC systems in buildings at Vanderbilt, including the Engineering and Science Building.
Entrants were required to present their thesis in under three minutes a way that non-technical audiences could understand. The only visual allowed was a single, static PowerPoint slide.
Ahmed, BE '16, earned his master's degree here in 2018 and is pursuing a Ph.D. in electrical engineering. He took part in the 3MT event last year and applied feedback he received to this year's competition.
"I learned some lessons last year and avoided any technical words in this year's presentation," said Ahmed. "If some description of my work couldn't be conveyed without adding jargon, I didn't go into detail on it. The point of the three minutes is to convey a sense of the research, not necessarily the exact steps of what you're doing."
He credits a technical communications course he took as an undergraduate, taught by Assistant Professor of the Practice of Technical Communications Courtney Johnson, with pushing him to consider how he describes his research to audiences beyond engineers.
"I took the lessons I got from that course to heart, and it was a prime cause for my success in 3MT," Ahmed notes.
His research involves using the history of data collected from a system he is monitoring to make it intelligent with an approach known as reinforcement learning.
"Looking at patterns in the data – the measurements I get in response to the system's actions – the system can learn which actions are better," said Ahmed, whose Ph.D. adviser is Cornelius Vanderbilt Professor of Engineering Gautam Biswas. "So, as the system experiences changes such as errors, surroundings etc., it can adapt on the fly. The outcome is systems failing less frequently and humans not needing to check in as often."
Reinforcement learning, Ahmed said, mimics how humans and animals learn: by looking at the rewards/punishments they get from their actions. His reward for winning 3MT was $1,000.
The 3MT competition, held in the Student Life Center, included a first round of presentations from all participants, judged by directors of graduate studies and faculty members from across campus. Ten finalists were selected from the initial 45 student entrants to advance to the final round, where five judges selected a winner and runner-up.
The annual competition is organized by the academic affairs committee of the Graduate Student Council, and this year's event was supported by the Graduate School, the Wond'ry, Peabody Library, the Russell G. Hamilton Graduate Leadership Development Institute and the Writing Studio, which hosted a writing workshop for participants ahead of the competition. This was the seventh 3MT competition at Vanderbilt.
Posted on Monday, April 8, 2019 in electrical engineering, Gautam Biswas, graduate student, ibrahim ahmed, machine learning, Three Minute Thesis,Electrical Engineering and Computer Science, Home Features, News, News Sidebar, Research