Emeritus Professor James Wert was leader in metallurgical engineering
James J. Wert, George A. Sloan Professor of Metallurgy and Professor of Mechanical Engineering, Emeritus, died Feb. 4, 2019, in Nashville.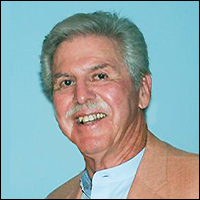 Wert joined the Vanderbilt engineering faculty in 1961. He developed the Department of Materials Science and served at its chair. Later, he served as chair of the Department of Mechanical Engineering. He retired in 1997. He continued his work through James Wert and Associates, a consulting firm that functioned until 2010.
At Vanderbilt, he received the Tau Beta Pi Teaching Award three times and was named an Outstanding Educator in America. During his teaching career, he advised more than 95 master's and doctoral students and enjoyed following their successes. He also served as secretary of the Vanderbilt Faculty Senate. For almost 20 years he was an ABET visitor to universities across the United States to review their engineering schools for accreditation.
Wert was a fellow of the American Society of Materials and the American Society of Mechanical Engineers. He served as chairman of the National Organization of Department Heads of Materials Science and Metallurgical Engineering.
In 1974, Wert was a visiting professor at Jesus College at Cambridge University. In 1984, he was a Fulbright Professor at the University of Damascus, Aleppo University in Syria and the American University in Cairo.
Wert earned a master's and doctorate degrees in metallurgical engineering from the University of Wisconsin in Madison where he was honored as the department's outstanding graduate student. He attended Carnegie Institute of Technology in Pittsburgh on a Westinghouse Fellowship where he had two patents for nuclear fuels used for reactors on the aircraft carrier USS Enterprise.
He is survived by his wife, Jane Thornton Wert; son, Thaddeus Thornton Wert (BE'84, M.Ed'86), a civil engineering and math graduate; and daughter, Melissa Jane Wert, (BE'85, MBA'91, Ph.D.'02) a materials science and engineering graduate; his daughter-in-law, two granddaughters, and a sister.
Posted on Tuesday, February 12, 2019 in emeritus professor, George A. Sloan Professor of Metallurgy, James J. Wert, mechanical engineering,Alumni, Home Features, Mechanical Engineering, News, News Sidebar