General Motors names alumnus Mark Reuss company president
Reuss will lead electric and driverless vehicle efforts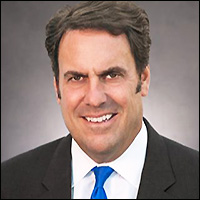 Mark L. Reuss has been promoted to president of General Motors. Reuss will continue to lead the company's ambitious plan to develop and bring to market electric and autonomous vehicles.
He remains GM's global product chief and head of Cadillac. Along with his new role, Reuss also will absorb responsibility for all vehicle quality.
"Mark's global operational experience, deep product knowledge and strong leadership will serve us well as we continue to strengthen our current business, take advantage of growth opportunities and further define the future of personal mobility," said GM Chairman and CEO Mary Barra in a GM press release. "Mark has played a critical role in leading the development of the company's award-winning vehicles while transitioning his team to prepare for growing electrification and autonomous technologies."
Reuss (BE'86) is a mechanical engineer who began his career with General Motors as a student intern in 1983.
He has held numerous engineering and management positions, including chief engineer of GM's large luxury vehicles and manufacturing body shop tooling launches. In 2001, Reuss created and led the GM Performance Division while serving as executive director of Architecture Engineering. In this role, he was responsible for GM's racing vehicles including the Cadillac V-Series products and SS-branded Chevrolet vehicles.
In 2005, he was appointed executive director of GM's North America Vehicle Systems and Architecture, and a year later was named executive director of Global Vehicle Integration, Safety and Virtual Development.
From 2009-2013, Reuss was president of General Motors North America, leading GM's performance, manufacturing, portfolio and dealer network in the United States, Canada and Mexico. He has been vice president of global product development since late 2013.
In June 2018, Reuss was named executive vice president and president, Global Product Group and Cadillac. Additionally, he serves on the board of GM China's joint venture and is a member of the GM Senior Leadership Team.
Reuss also served briefly as GM's vice president of global engineering after spending two years overseas as vice president and managing director of Australia and New Zealand. During this time, he was a member of the GM Asia Pacific Strategy Board.
Reuss is a certified industry pool test driver on the North Course of the Nürburgring Motorsport Racetrack in Germany, and is licensed for FIA C and IMSA Road Racing. His first car was a 1967 Camero, which he bought and restored himself. In 2018, he was honored as the Enthusiast of the Year at the Concours d'Elegance of America.
Reuss is a member of the Vanderbilt School of Engineering's Academy of Distinguished Alumni, a member of the Duke Fuqua School of Business Board of Visitors and is GM's Key Executive at Duke University. He also serves on the Board of Trustees of The Henry Ford, the Skillman Foundation, Cranbrook Schools, Horizons Upward Bound, Detroit Workforce Development Board, the Detroit Education Coalition and the CEO Leadership Group on Regional Economic Development.
Contact: Brenda Ellis, (615) 343-6314
brenda.ellis@vanderbilt.edu
Posted on Monday, January 7, 2019 in alumni, GM, Mark Reuss, mechanical engineering,Alumni, Home Features, Mechanical Engineering, News, News Sidebar