Graduate student wins fellowship designed for future spaceflight leaders
An engineering graduate student has received a Matthew Isakowitz Fellowship that includes a summer internship at XPRIZE and a yearlong executive mentorship.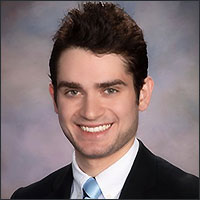 Richard Nederlander is one of 25 individuals selected for the 2019 class of Isakowitz fellows. Now in its second year, the highly selective program awards college juniors, seniors and graduate students pursuing aerospace careers with internships at cutting-edge commercial space companies in the United States.
After completing the summer internship, fellows have the opportunity to continue to network with the program, assigned mentors, and past and future fellows. The full year of one-on-one mentorship from members of the space community includes astronauts, engineers, entrepreneurs, executives, investors and others.
"I am thrilled and honored to receive this fellowship and to represent Vanderbilt University at the XPRIZE Foundation," said Nederlander. "I am grateful to Professor Robert Reed and Professor Keivan Stassun for their guidance. I look forward to sharing my experience with the community in the fall." Reed, professor of electrical engineering, is Nederlander's adviser; Keivan Stassun is a professor or physics and astronomy, and computer science.
The program culminates in a two-day summit where the fellows will network with top leaders in the industry, visit space start-ups and develop entrepreneurial skills.
Nederlander is pursuing a Ph.D. in electrical engineering and his research focuses on how radiation effects impact space-based electronics. He works in the Radiation Effects and Reliability Research Group in the Institute for Space and Defense Electronics.
He has interned at space and science companies that include Engility, a subsidiary of SAIC, and the World Science Festival. He also writes about the space industry on his blog Space Industry Insights. Nederlander earned a bachelor of arts degree in 2018 with majors in astrophysics and music from Columbia University.
XPRIZE is a nonprofit organization that designs and manages large-scale worldwide incentive competitions to crowdsource solutions to global challenges. Since 1994, XPRIZE has designed and launched 17 prizes in the domain areas of space, oceans, learning, health, energy, environment, transportation, safety and robotics.
Contact: Brenda Ellis, (615) 343-6314
brenda.ellis@vanderbilt.edu
Posted on Tuesday, March 5, 2019 in electrical engineering and computer science, Matthew Isakowitz Fellowship, radiation effects, Richard Nederlander, XPRIZE,Electrical Engineering and Computer Science, Home Features, Media, News, News Sidebar