Hatzell awarded NSF CAREER grant to expand research on lithium-ion batteries
Kelsey Hatzell, assistant professor of mechanical engineering, has received a National Science Foundation Faculty Early Career Development grant.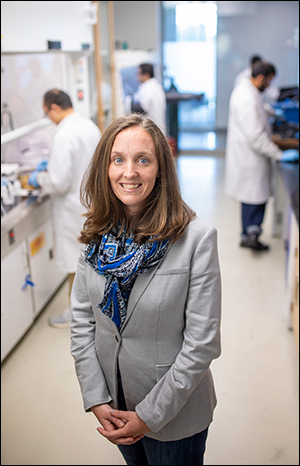 The five-year, $515,600 grant— Understanding Interfaces in Solid State Energy Storage Systems and Cross-Disciplinary Education—begins June 1, 2019.
Advanced lithium-ion batteries for vehicles and for renewable electricity grid storage could improve domestic energy security but performance gaps in cost and battery life limit their use. The main cause of battery failure is undesirable chemical side reactions inside the device that are difficult to quantify and to understand.
Hatzell will conduct fundamental research on advanced solid-state hybrid electrolytes that show potential for greater energy density while remaining safe to use.
"These hybrid electrolytes could replace liquid organic electrolytes that have had issues with long cycle life and high energy densities. The active material's (lithium ion) transport within the electrolyte and to the electrode is not fully understood in these hybrids," Hatzell said.
This project will examine ionic transport pathways in a family of solid ion hybrid conductors. These electrolytes are composed of two different types of ion conductors—polymers and ceramics.
"Currently, it is unknown how ionic transport occurs between these materials within the electrolyte," Hatzell said. "It's necessary to control ion transport between them in order to design batteries that can be charged quickly and last a long time."
She plans a multi-modal approach that couples physics-based modeling with electrochemical, spectroscopy, x-ray, and neutron experiments to describe transport mechanisms in hybrid solid electrolytes.
Establishing the role interfaces have on ionic transport could result in far-reaching applications related to performance and functionality of chemical sensors, fuel cells and other battery chemistries, Hatzell said.
Outreach activities include programs through the Vanderbilt Institute for Nanoscience Engineering, Vanderbilt Engineering Ambassadors, and a research internship program with Harpeth Hall School for Girls in Nashville.
This research is supported by the National Science Foundation, Division of Chemical, Bioengineering, Environmental, and Transport Systems; Program, Energy for Sustainability. Grant No. 1847029.

Contact:
Brenda Ellis, (615) 343-6314
brenda.ellis@vanderbilt.edu
Posted on Tuesday, April 9, 2019 in hybrid electrolytes, Kelsey Hatzell, lithium-ion battery, NSF CAREER Award, solid-state energy storage,Alumni, Home Features, Mechanical Engineering, Media, News, News Sidebar, Research