Heidi Hall, celebrated writer and engineering research champion, dies at 49
A communications leader and champion for the Vanderbilt School of Engineering, Heidi Nieland Hall, died September 25, 2019, in Nashville from metastatic colorectal cancer. She was 49.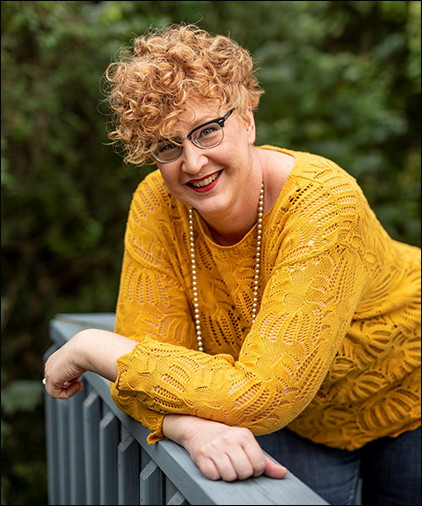 Hall, an honored reporter and editor for decades, left The Tennessean to join the engineering school communications team in August 2014. In 2017, she joined Vanderbilt's Division of Communications, continuing to support researchers in the school and in the natural sciences, playing a leading role in explaining and publicizing cutting-edge engineering and scientific research.
She finished her career heralding Vanderbilt engineers' and scientists' work to treat and cure cancer. The university will launch the Heidi Hall Internship for Science Communications in 2020.
"Heidi was a positive force for the School of Engineering with her colorful wit and brilliant writing. She truly loved working with all of us to convey the great work of the school," said Philippe Fauchet, Bruce and Bridgitt Evans Dean of Engineering, remembering "her cheerfulness, her heart of gold, her dedication to the school, and her talent."
"Heidi was a great asset to the School of Engineering, not only for her humor, personality and desire to learn, but also her unique ability to translate complex topics into stories the public could understand. I truly will miss working with her and many of us are better for having her in our lives," said Chris Rowe, associate dean for external relations and director of engineering communications.
At The Tennessean, she was a prominent part of a team of reporters and editors who covered the Nashville flood in 2010. That team was named a finalist for the Pulitzer Prize for breaking news reporting.
Her leadership on the education beat led to years of accolades from the Tennessee Press Association. She also won top awards for her writing on health care and the Tennessee Walking Horse industry.
In person, she was a force of nature, with a booming laugh that bounced off newsroom walls and a tenacity that pushed coworkers to dig deeper for every story, The Tennessean reported. She prided herself on accuracy and diverse representation of voices in the pages of local newspapers and demonstrated that in her personal life as well.
After an upbringing in Sikeston, Missouri, she rose though the newspaper industry.
Hall began her career with the weekly Democrat Advertiser in Sikeston, later spending years at newspapers in Missouri and across Florida before she came to Nashville and The Tennessean where she was team leader for religion and education.
Hall was a member of Woodland Presbyterian Church in East Nashville and served as elder emerita. She suggested that any remembrances in her honor be donations to the church.
A memorial service will be held at 2 p.m. on Sunday, October 13, at Woodland Presbyterian Church, 211 N. 11th St., Nashville, with the Rev. Meredith Cox presiding.
A selection of Heidi Hall's stories:
Her final Vanderbilt story:  Meet the alpacas that are helping researchers who study autism, Alzheimer's and cancer
Her first engineering story in 2014: After Fukushima, Vanderbilt researchers study radiation's effects on robots
The following dozen stories are just a few that earned media attention for engineering research:
Vanderbilt engineers tripped people 190 times, but it was for a good cause
iPhone plus nanoscale porous silicon equals cheap, simple home diagnostics
Road test proves adaptive cruise control can add to traffic jam problem
Like racecars and geese, cancer cells draft their way to new tumor sites
Study links Celebrex, heart valve calcification after earlier research declared drug safe
Nanoparticle targets tumor-infiltrating immune cells, flips switch telling them to fight
What Google can learn from your Android phone
'Smart' prosthetic ankle takes fear out of rough terrain, stairs
NSA Lablet at Vanderbilt to make sure America keeps moving after hacks
Making America's power grid much, much smarter
Paralyzed by accident, grad student engineers his future with exoskeleton
Engineering students' invention may improve safety for women in India
Contact: Brenda Ellis, (615) 343-6314
brenda.ellis@Vanderbilt.edu
Posted on Thursday, September 26, 2019 in Engineering Communications, engineering research, Heidi Hall, School of Engineering,Alumni, Home Features, Media, News, News Sidebar