Lippmann awarded NSF CAREER grant to study mechanics of blood-brain barrier
Ethan Lippmann, assistant professor of chemical and biomolecular engineering, has received a National Science Foundation Faculty Early Career Development grant.
The five-year, $401,650 grant—Deconstructing Neurovascular Mechanobiology—begins July 1, 2019.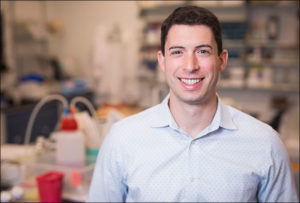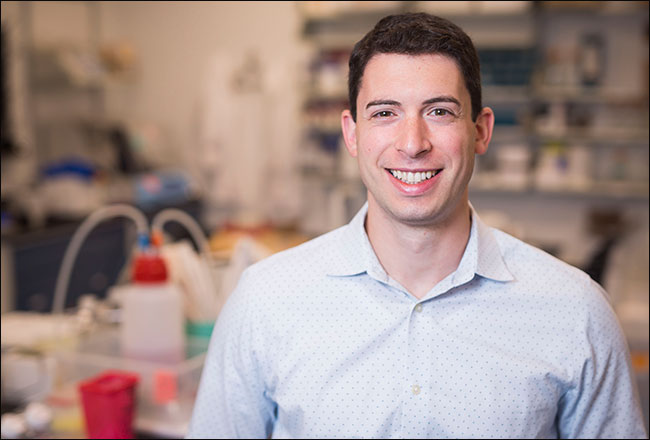 Lippmann studies changes in brain vascular physiology due to aging or disease. "The goal of this award is to investigate the hypothesis that changes in the stiffness of the extracellular matrix of blood vessels are one of the causes of dysfunction of the blood-brain barrier," Lippmann said.
Relative to blood vessels in the body, blood vessels in the brain have specialized functions that make them very selective with respect to what substances they permit to transfer between the bloodstream and the brain.
"The blood-brain barrier may be compromised in various brain diseases but the reason for this change is often unclear," Lippmann said. "The overall research goal of this award is to understand the mechanobiology of the blood-brain barrier, specifically related to the interaction of the cerebrovascular mechanics with BBB function."
The first objective is to characterize how neurovascular tissue stiffness influences blood-brain barrier function in natural tissue (in situ) and in engineered tissue (in vitro).
Lippmann's research group will conduct measurements directly on blood vessels in human brain tissue and by building blood vessel models from human induced pluripotent stem cells (iPSCs) where they can control matrix stiffness and other parameters.
The second objective is to elucidate the biophysical mechanisms, specifically the mechanical triggers and the molecular signals, that yield blood-brain barrier dysfunction. The focus will be on both autonomous and cross-talk signaling for the various cells that make up the blood-brain barrier.
"Understanding more fully the blood-brain barrier—and in particular how changes in vascular stiffness that occur during aging and other pathologies may impact its function—is a key step for understanding cerebrovascular physiology and how materials can be transported, or prevented from being transported, to the brain tissue," Lippmann said.
These results will provide key insight into fundamental processes related to the progression of changes in brain vascular physiology due to aging or disease.
This research is supported by the National Science Foundation, Division of Civil, Mechanical and Manufacturing Innovation; Program, Biomechanics and Mechanobiology. Grant No. 1846860.
Contact:
Brenda Ellis, (615) 343-6314
brenda.ellis@vanderbilt.edu
Posted on Wednesday, April 3, 2019 in blood-brain barrier, cerebrovascular mechanics, Ethan Lippmann, mechanobiology, NSF CAREER Award,Alumni, Chemical and Biomolecular Engineering, Home Features, Media, News, News Sidebar, Research