Mahadevan-Jansen elected to global photonics society's presidential track
Anita Mahadevan-Jansen, Orrin H. Ingram Professor of Engineering and director of the Biophotonics Center at Vanderbilt University, has been elected to serve as the 2020 vice president of SPIE, the international society for optics and photonics that serves 257,000 constituents from 173 countries.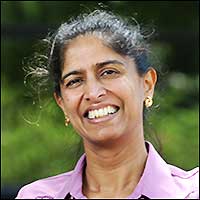 With her election at the society's annual meeting, SPIE Optics + Photonics in San Diego Aug. 13, Mahadevan-Jansen will serve as president-elect in 2021 and as the society's president in 2022.
"I am reassured by the support of the optics and photonics community and I am excited to serve the society," said Mahadevan-Jansen, a professor of biomedical engineering and a SPIE Fellow.
She has served on numerous SPIE committees, including former chair of the Membership Committee and current chair of the newly formed Equity, Diversity and Inclusion Ad Hoc Committee. She was an elected member of the SPIE Board of Directors from 2014-2016, and serves on the 2018-2020 board.
Mahadevan-Jansen's technical interests include biophotonics, optical spectroscopy and imaging for disease detection, neurophotonics, cancer diagnosis, optical guidance of surgery and clinical translation of optical technologies.
An acknowledged leader in biomedical photonics, Mahadevan-Jansen and her team at the Vanderbilt Biophotonics Center develop technologies that can be used in clinical care for cancer diagnosis and therapy guidance. Her FDA-approved technology is changing the way thyroid and parathyroid surgery is performed and her current research will help surgeons to perform delicate brain tumor surgery and breast cancer surgery.
Mahadevan-Jansen serves on the founding board of the International Society of Clinical Spectroscopy and has served on the editorial boards of Applied Spectroscopy, Journal of Biomedical Optics, and Neurophotonics. She is a fellow of The Optical Society of America and the American Institute of Medical and Biological Engineering.
In 2018, she organized the Gordon Research Conference in Lasers in Medicine and Biology. For more than 75 years, the Gordon Conferences have been recognized as some of the world's premier scientific conferences where leading investigators from around the world discuss their latest work in an informal setting.
Mahadevan-Jansen received a B.Sc. and M.Sc. in physics from the University of Bombay and her master's and Ph.D. degrees in biomedical engineering from the University of Texas at Austin.  She joined the Vanderbilt School of Engineering in 1997.
Contact: Brenda Ellis, (615) 343-6314
Brenda.Ellis@Vanderbilt.edu
Posted on Friday, August 16, 2019 in Anita Mahadevan-Jansen, biomedical engineering, biophotonics, Biophotonics Center at Vanderbilt University, cancer diagnosis, Orrin H. Ingram Professor of Engineering, spectroscopy and imaging, SPIE, SPIE election,Alumni, Biomedical Engineering, Home Features, Media, News, News Sidebar, Research