Mary Ellen Ternes to lead the American College of Environmental Lawyers in 2020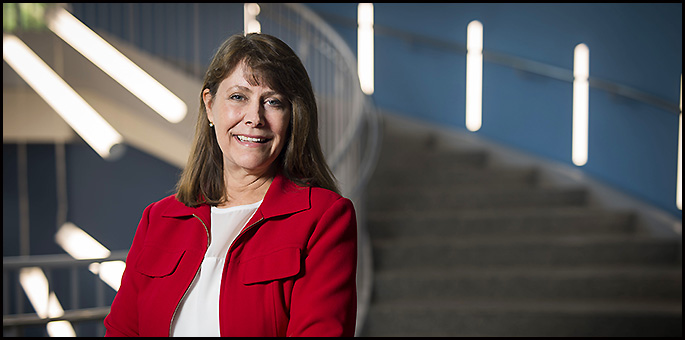 An American Institute of Chemical Engineers Fellow, one of only two attorney AIChE Fellows, is the president-elect of the American College of Environmental Lawyers, an organization dedicated to the development of environmental law at state and federal levels.
Mary Ellen Ternes, BE'84, was elected at the organization's annual meeting on Oct. 11, 2019. She will lead the ACOEL as president in October 2020. Ternes is recognized nationally in the fields of chemical engineering, environmental law and advocacy.
Ternes has more than 30 years of experience at the intersection of energy, manufacturing, air quality, hazardous waste management, infrastructure and disaster response.  Based in Oklahoma City, Ternes is a partner with the law firm Earth & Water Law, LLC, headquartered in Washington D.C.
After earning a degree in chemical engineering at Vanderbilt, she pursued a career in emergency response and hazardous waste site removal actions, chemical waste treatment and destruction, and air pollution control and permitting in both federal government and industry. In 1995, Ternes graduated with high honors from the University of Arkansas at Little Rock School of Law where she was managing editor of the UALR Law Journal.
"My perspective allows me to explain to engineers how law and policy impact their focus, and to lawyers, how scientific and engineering realities impose limitations or provide opportunities they generally do not anticipate intuitively," Ternes said.
Ternes cited an issue particularly relevant now:  climate change adaptation related to "recognized and generally accepted good engineering practices" (RAGAGEP/Occupational Safety and Health Administration/Environmental Protection Agency), specifically for chemical process plants vulnerable to extreme weather, which could potentially trigger criminal prosecution and civil litigation.
Other notable issues, Ternes said, include the Basel Convention's May 2019 amendments regarding plastic waste, a real movement toward a circular plastic economy—redesigning the ethylene pathway upstream and downstream—to informed production based on a cradle-to-cradle lifecycle.
"Fundamental paradigms within law and engineering are shifting now and the ability to speak both languages between each universe of static imbedded perceptions is especially important," said Ternes, who focuses on better integrating law and policy with science and engineering. She is a frequent author and speaker, particularly as it relates to improving applied science-based environmental policy.
Ternes said her chemical engineering mentor, Karl Schnelle, professor emeritus of chemical and biomolecular engineering, and the engineering school's unique education program inspired her to create her own path.
"Vanderbilt is well-known for its well-rounded engineering education. It has always been evident to me that the engineering program provides opportunities that other programs do not, and it contributed to my dual integrated focus, which is proving valuable in adapting to these paradigm shifts," she said.
Ternes began her career with U.S. Environmental Protection Agency's Superfund Emergency Response Program, using her chemical engineering degree for chemical release response, remediation and treatment as an On-Scene Coordinator and federal "commander on the scene." Trained and charged by EPA Region 6 with emergency field response, she characterized root cause, extent and fate of hazardous chemical releases, designing and implementing removal and remedial actions for uncontrolled hazardous waste sites throughout EPA Region 6, including projects like the Vertac dioxin waste site with its on-site incineration remedy in Jacksonville, Arkansas.
Ternes then turned to chemical waste incineration in the Resources Conservation and Recovery Act Program, focusing on permitting and demonstrating technology performance standards including air pollution control, first for EPA Region 6, then the commercial hazardous waste incineration industry.
Now, Ternes draws on EPA administrative processes, technical knowledge, chemical engineering and field experience to address environmental challenges for commercial and industrial clients and government entities.
"My environmental law mentor is ACOEL President Allan Gates (Vanderbilt Law'72). Allan clerked for Supreme Court Justice Harry Blackmun and he was my first law partner at Mitchell Williams in Little Rock. While a history major at Yale, Allan has never shied away from the science of environmental law and he is my model for the best environmental lawyer in creating my practice."
Two Vanderbilt law professors are active members of the ACOEL. J.B. Ruhl, David Daniels Allen Distinguished Professor of Law, and Michael P. Vandenbergh, David Daniels Distinguished Professor of Law, are ACOEL fellows. They are co-directors of Vanderbilt Law School's Energy, Environment and Land Use Program.
"J.B. and I are looking at further ACOEL partnerships with law schools. And, of course, I'd like to include collaboration with engineering schools and other sciences as well," said Ternes, who is a member of  the External Advisory Committee of the Department of Chemical and Biomolecular Engineering at Vanderbilt.
+++
The American College of Environmental Lawyers is a professional association of distinguished lawyers who practice in the field of environmental law.  Membership is by invitation and members are recognized by their peers as preeminent in their field.  ACOEL members are dedicated to maintaining and improving the ethical practice of environmental law, the administration of justice, and the development of environmental law at both the state and federal level.
+++
Contact: Brenda Ellis, (615) 343-6314
brenda.ellis@Vanderbilt.edu
Posted on Tuesday, October 15, 2019 in ACOEL, alumna, alumnus, American College of Environmental Lawyers, chemical engineering, environmental law, Mary Ellen Ternes,Alumni, Chemical and Biomolecular Engineering, Home Features, News, News Sidebar