ME senior earns prestigious fellowship from Luce Scholars Program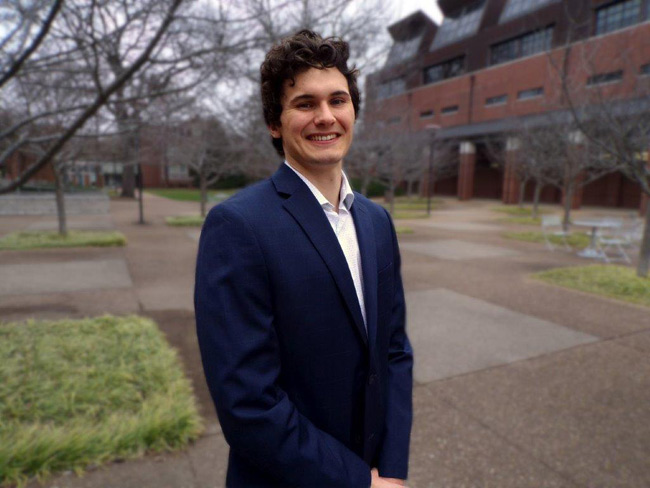 Connor Morency, a senior from Wheaton, Illinois, studying mechanical engineering, has been named to the 2019-20 class of Luce Scholars.
A nationally competitive fellowship, the Luce Scholars Program was created by the Henry Luce Foundation in 1974 to enhance the understanding of Asia among potential leaders in American society. As a Luce Scholar, Morency will gain new perspectives through immersive living and professional work experiences in Asia.
Students from colleges and universities throughout the United States were nominated for the program, and Morency was one of 18 students chosen following an intensive three-month selection process.
For Morency, the Luce program will enable him to devote a year to understanding the international landscape of space programs in Asia, a topic to which he has devoted time in and out of the classroom.
"I believe this experience will be transformative and eye-opening, likely in ways that I cannot yet imagine. I am beyond excited to immerse myself in my host country and placement in the coming year," Morency said. "Through these experiences I hope to gain the knowledge and tools to positively influence global cooperation and collaboration in astronautics."
Morency has pursued his passion for aerospace as a member of the Vanderbilt Aerospace Design Laboratory, competing annually with the award-winning Student Launch Team to develop innovative rocket designs in NASA competitions.
In addition, he has volunteered with Alternative Spring Break, serving with other Vanderbilt students in Pittsburgh, Pennsylvania, in 2017 and Brownsville, Texas in 2018. He's also a talented musician who has performed on Vanderbilt's campus, and he is active in VIDA, Vanderbilt's Latin dance team, for which he choreographs routines and trains new members.
While at Vanderbilt, Morency has contributed to campus life through residential colleges and extracurricular groups. Working as a head resident in Warren College, he provides leadership to the resident advisers and ensures the living-learning community is a positive environment for students.
Last summer, Morency worked as a crew trainer at the U.S. Space and Rocket Center in Huntsville, Alabama. There he led lessons for children and adults on the history of U.S. spaceflight, passing on his knowledge and love of space to the next generation.
While his placement is not yet finalized, as a Luce Scholar Morency will have the opportunity to continue engaging in these topics during his yearlong immersive experience in one of several Luce-partnering Asian countries.
The Luce Scholars Program provides stipends, language training and individualized professional placement in Asia for 15-18 Luce Scholars each year. Applications are welcome from college seniors, graduate students and young professionals who have limited exposure to Asia.
To learn more about the program, visit the Luce Scholars website. For more information about postgraduate fellowships, contact the Career Center.
Posted on Friday, February 22, 2019 in immersion, Luce Scholar, mechanical engineering student awards, rocket team, student awards, Vanderbilt Aerospace Design Lab,Home Features, Mechanical Engineering, News, News Sidebar