Quah named winner of SEC's McWhorter Award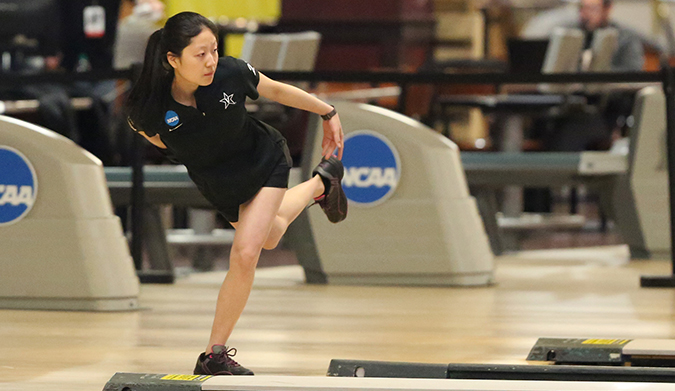 Vanderbilt bowling senior Kristin Quah has been named the recipient of the H. Boyd McWhorter Award, which is presented annually to the outstanding female student-athlete in the Southeastern Conference. Nathan Hite, a senior track and field student-athlete at Texas A&M, was named the male recipient.
The two were chosen by a committee of faculty athletics representatives from SEC universities and each will receive a $20,000 post-graduate scholarship. Hite and Quah will be honored at the annual SEC Awards Dinner during the SEC Spring Meetings in Sandestin, Florida, the last week of May.
A biomedical and electrical engineering major, Quah will graduate with honors next month as one of Vanderbilt's most decorated student-athletes, and her list of accomplishments in both athletics and academics places her in elite company in Commodore athletics history.
Quah becomes only the third Vanderbilt student-athlete to win the McWhorter Award, named for former SEC commissioner Boyd McWhorter. Basketball's Michelle Palmisano won the honor in 1996 and track and field's Erika Schneble won in 2007.
A native of Singapore, she was a three-time All-America selection and an integral part of Vanderbilt's 2018 NCAA championship and 2019 national runner-up teams. Regarded as one of the nation's top spare shooters, she helped the Commodores win the Southland Bowling League title in 2017 and made nine all-tournament teams during her four-year career.
Quah was honored as the NCAA Rookie of the Year in 2016, and in 2018 advanced to the semifinals of the Intercollegiate Singles Championship. Prior to coming to Vanderbilt, Quah was a member of Singapore's national team.
She has compiled a 3.97 grade-point average, twice winning the prestigious NCAA Elite 90 Award for having the highest grade-point average at the NCAA Bowling Championship. She was a seven-time honoree on Vanderbilt's dean's list and won the Biomedical Engineering Society's Undergraduate Student Design and Research Award in 2018.
Quah is a member of Tau Beta Pi, an engineering honor society, and IEEE's Eta Kappa Nu, a professional honor society. She was a Vanderbilt Undergraduate Littlejohn Summer Research Scholar in 2018. Her field of study is MRI temperature imaging research for non-invasive surgery, a topic she will present at an international MRI conference in Montreal this May.
As an undergraduate, she has served as a member of Vanderbilt's Student Athlete Advisory Committee and was a teaching assistant and tutor in Vanderbilt's Engineering Science Department. She also mentored freshmen engineering students as part of the V-Squared Mentor program. Quah participated in the SyBBURE Searle Undergraduate Research Program, which funds undergraduate students to explore aspects of STEM through independent research and team-based projects. Quah routinely joined her Vanderbilt bowling teammates in community service efforts across Nashville.
Quah will continue MRI research while pursuing her doctoral degree next fall at Stanford.
READ MORE: Senior Kris Quah named a Knight-Hennessy Scholar
Posted on Tuesday, April 30, 2019 in H. Boyd McWhorter Award, Kristin Quah, SEC, Southeastern Conference, student-athlete, Vanderbilt Bowling,Alumni, Biomedical Engineering, Electrical Engineering and Computer Science, Home Features, Media, News, News Sidebar