Researchers advance image-guided robotic surgical tools for delicate eye procedures
Molecular, gene and cell-based therapies targeting eye diseases could prevent and potentially reverse cell degeneration that leads to loss of sight. However, delivering injections safely and accurately into targeted ocular layers remain concerns that affect the advancement of life-changing new treatments.
To address the safety and reliability challenges, researchers in the Vanderbilt Institute for Surgery and Engineering are joining their expertise to enable the use of optical coherence tomography (OCT) imaging for assistive robot control feedback aimed at enabling extreme precision subretinal drug delivery.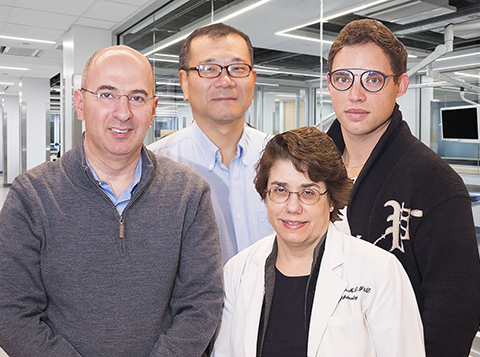 "Robust translatable injection techniques that would enable researchers and clinicians to visualize and accurately deliver therapies to a favored subretinal location are lacking," said Nabil Simaan, professor of mechanical engineering.  Simaan and physician Karen Joos, Joseph and Barbara Ellis Professor of Ophthalmology and professor of biomedical engineering, are co-principal investigators on a five-year National Institute of Health grant, "Ocular Therapeutic Delivery Through Real-time Endoscopic B-scan OCT-guided Tools and Robotic Assistance."
"Subretinal injections at the molecular level require extreme accuracy and steadiness beyond the physical abilities of most surgeons," said Joos, also a professor of biomedical engineering. "And current injection procedures are hampered by a lack of simultaneous real-time visualization of the cross-sectional retinal layers and the needle tip."
Due to these perception and technical challenges, current techniques may disrupt adjacent anatomical structures and agents or cells may be injected into the incorrect layer or enter the vitreous cavity through the internal retinal hole.
"Our goal is a direct approach for subretinal injections using needles equipped with B-scan OCT-guided visualization and by using robotic assistance with online OCT image segmentation for robotic control assistance to enable localized therapeutic delivery," said Simaan, also a professor of otolaryngology and computer science and director of the Advanced Robotics and Mechanism Applications Research Laboratory. In OCT, a B-scan refers to the cross-sectional image where the amplitudes of reflections are represented in a gray scale or a false-color scale.
Preliminary results supporting collaboration were partly obtained by doctoral student Giuseppe Del Giudice, working with Professor Simaan, and Research Assistant Professor of Ophthalmology and Visual Science Jin-Hui Shen, an expert co-developing the miniature OCT probes with Dr. Joos.
The researchers believe their technological augmentation of surgeons' visualization and manipulation skills for subretinal injections will enable less invasive, more accurate and safer therapeutic delivery procedures for ocular diseases. They are testing on a preclinical model to evaluate the role of visualization and maneuver augmentation in improving procedural accuracy and time efficiency.
"Developing efficient and cost-effective therapies for age-related ocular diseases have become critical due to an aging world population," Joos said. "Although less common, inherited retinal disorders cause untreatable vision loss in the young with only supportive care available."
Although therapeutic protocols using gene therapy or stem cells for treating ocular diseases are still in their infancy, OCT-guided robotic assisted endoscopic surgical tools promise a paradigm shift in treating a variety of visual disorders.
This research is supported by a five-year grant from the National Eye Institute of the National Institute of Health (EY028133).
Contact: Brenda Ellis, (615) 343-6314
brenda.ellis@vanderbilt.edu
Posted on Thursday, November 21, 2019 in eye diseases, Giuseppe Del Giudice, Karen Joos, Nabil Simaan, NIH, OCT-guidance, R01, robotics, subretinal drug delivery,News