Revamped civil engineering curriculum ignites students' passions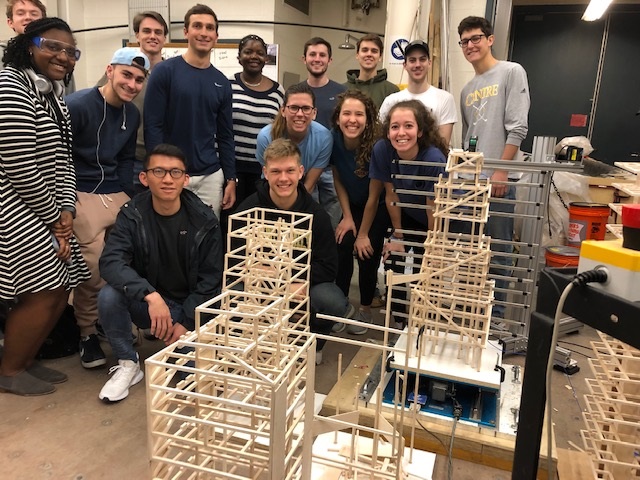 Nathan Miller, an engineering senior from Indianapolis, arrived at Vanderbilt in August 2016 thinking he would major in chemical engineering. Like all first-year students, he selected three eight-week modules that introduce different disciplines within engineering.
He took chemical, civil and mechanical engineering. The first day of the civil engineering module—students were to design and 3D-print small model wind turbine blades for stress and efficiency testing—settled any internal debate.
"I was hooked from Day One," Nathan said. "I saw how civil engineering can be used to take on some of the world's problems head on, and that was really intriguing to me."

Cyan Baker, a senior from Chicago, took three modules: civil engineering, biomedical engineering and computer science. She knew she wanted to be a civil engineer and the first semester confirmed it. Students in her module designed, made and tested small hydro-powered dams made of environmentally friendly concrete.
"The other modules were cool and interesting but weren't exactly the right fit for me," she said.
As Class of 2020 members, Cyan and Nathan also took sustainable design, risk and reliability engineering, and other civil engineering courses earlier classes could not. They will be the first civil engineering students to graduate under a revamped curriculum. Designed to engage students early by combining hands-on projects with big-picture thinking, the updates included new courses rolled out each year.
Infrastructure Systems Engineering was offered for the first time this semester. Energy Systems Engineering, another new course, is an elective in spring semester. Sustainable Design, taught for the first time in 2017-18, is a required course for sophomores. Risk, Reliability, and Resilience Engineering is offered to juniors.
"We want to give students a vision for the impact they can have on their environment early in their college career," said Lori Troxel, professor of the practice of civil and environmental engineering, who teaches the course. She and Daniel F. Flowers Professor Doug Adams, who also chairs the Department of Civil and Environmental Engineering, teach the first-year modules.
Standard courses such as Fluid Dynamics got a makeover, too. Students take it as juniors and, in addition to lectures and labs, they work teams of four to design water slides for a theme park. The project culminates with small, 3D printed models of the water slides and a competition judged by representatives from the Nashville Shores Waterpark. Building and testing balsa wood towers with weights on equipment that shakes them and measures the failure frequency was so popular in Troxel's Structural Engineering course that the activity is now part of the first-year civil engineering module she teaches.
CEE undergraduates select from three tracks within civil engineering: Environmental and Infrastructure Engineering, Structural Engineering and General Civil Engineering featuring autonomous cars and transportation. As seniors, they work in teams on design projects during their final two semesters as undergraduates.
Like many students, Matt Neuendorf, a senior from New York City, did not realize the breadth of civil engineering until he began to study it. The larger field includes sustainability, water resources, transportation, multi-scale modeling and geotechnical studies.
"The Sustainable Design class definitely had an impact on me," Matt said. "I had thought civil engineering was about construction of big buildings, bridges and dams. The class opened my eyes to the impact civil engineers can have."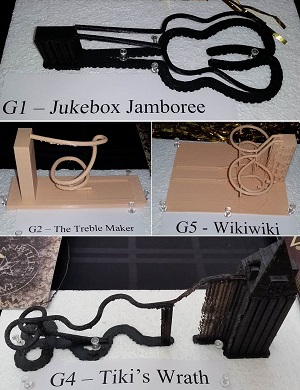 When she was 12, Miranda Mangahas, who is from northern Virginia, thought she wanted to be an architect until her father suggested civil engineering. Now a CE sophomore, she's interested in land development and transportation and can't wait to start her career as a civil engineer.
Cyan has applied for a Fulbright Fellowship and hopes to study human interface technology in New Zealand after graduation. Nathan is considering graduate school to focus on water resources in developing countries. Matt also is interested in international development.
Such interests are what the civil engineering curriculum was designed to ignite.
"I think this is a distinguishing feature of Vanderbilt's engineering program," Adams said. "Our graduates become leaders who not only analyze but can help to realize these kinds of societal solutions working across disciplinary boundaries."
"Our students study engineering here and they also learn the socioeconomic and human dimensions that can make engineering solutions work," he said.
Contact:
Pamela Coyle (615) 343-5495
Pam.Coyle@Vanderbilt.edu
Twitter @VUEngineering
Posted on Sunday, November 3, 2019 in civil engineering, Doug Adams, Lori Troxel, renewable energy, risk and reliability, sustainability, transportation, undergraduate curriculum,Civil and Environmental Engineering, Home Features, Media, News, News Sidebar