Robby Perry, BE'19, packed his four Vanderbilt years with experiences
Once a week since his first year at Vanderbilt, Robby Perry's alarm clock went off at 4 a.m. so he could show up to work the 4:30 to 7 a.m. breakfast shift at the Nashville Rescue Mission.
Perry, a mechanical engineering and economics double major, said his college experience was shaped profoundly by this service and by the community he found there.
"Hearing their stories and seeing their perseverance have given me a great perspective on how lucky I am to be where I am," said Perry, who graduated in May 2019. "It motivates me to be the best person I can be every single day."
From his volunteer work to an Alternative Spring Break trip to renovate houses with Habitat for Humanity, to a Home Depot–sponsored web-coding hackathon, to a semester of study abroad that took him to cities such as Madrid, Marrakesh and Istanbul—Perry's time at Vanderbilt shows just how much can be packed into four years.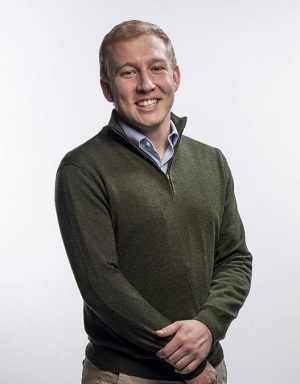 For the Cincinnati native, the Schiff Family Scholarship made it possible. "Without my scholarship, Perry says, "I don't think I even would have been able to get my foot in the door, let alone have the once-in-a-lifetime opportunities Vanderbilt facilitated."
Perry chose to attend Vanderbilt because, he said, "it had a little of everything I was looking for: top-tier academics, SEC athletics, a great location in Nashville. And the 'No. 1 ranking for happiest students' thing is actually true. Our campus is a positive place to be."
Perry made sure his campus life had a little of everything, too, by working part time in the Department of Political Science, staying in shape with the Commodores women's basketball practice team, and serving as a 'Dore for a Day tour guide.
His final semester was anchored by an immersive senior engineering project in collaboration with the Middle Tennessee Nissan plant. Working with Nissan's engineers, Perry and his senior design teammates created iterations of a system to track the location of parts in the factory more efficiently. And he added one more Vanderbilt experience by auditing an extra class on negotiation.
"Negotiation will be a great real-world skill no matter where the next five, 10, 40 years of my career take me," Perry said.
Thanks to an introduction made at an on-campus recruiting event, Perry moved to Boston after graduation to work at Altman Vilandrie & Co., a boutique consulting firm specializing in strategic solutions for the telecom, media and technology industries.
"It has been hugely motivating to be surrounded by smart, driven people I know will be successful. I hope one day to give back to Vanderbilt so that I can help provide similar opportunities for students," he said.
By Lily Kane
Posted on Thursday, May 30, 2019 in alternative spring break, hackathon, honor scholarships, immersion, Nissan,Alumni, Home Features, Mechanical Engineering, News, News Sidebar