ORAU award supports BME professor's work on whole brain statistical modeling
An engineering professor whose research involves building statistical models of whole brain data sets has received a competitive research grant from Oak Ridge Associated Universities.
Mika Rubinov, assistant professor of biomedical engineering, is one of 36 junior faculty nationwide to win a Ralph E. Powe Junior Faculty Enhancement Award, which provides funds to enrich the research and professional growth of young faculty at ORAU member institutions. He and his peers were selected from among 167 applicants.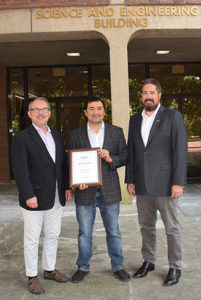 The recipients, each of whom is in the first two years of a tenure track position, will receive $5,000 in seed money for the 2019-2020 academic year to enhance their research during the early stages of their career. Each recipient's institution also matches the ORAU award with an additional $5,000.
With the award, Rubinov plans to establish collaborations with researchers and labs at ORNL. His work combines algorithmic development in network science with insights from cognitive and clinical neuroscience, to analyze and model whole-brain structure and activity across species and scales, in healthy and diseased states.
"Brain imaging technology is continually improving" Rubinov said. "and as we move forward we get access to more and better imaging data."
These data present opportunities as well as challenges, he said.
"We want to understand how interactions between neurons underpin brain function, preferably using models that are biologically realistic and computationally efficient," Rubinov said.
Faculty at the School of Engineering have secured this award for several years in a row. ORAU, a 121-member consortium of major PhD-granting academic institutions, cultivates collaborative partnerships that enhance national scientific research and education enterprise.
"We are very proud of Mika's commitment to the mission of discovery and the distinction he brings to the school of engineering," said Dean Philippe Faucet.
Rubinov joined the engineering school faculty in 2018 from the Janelia Research Campus of the Howard Hughes Medical Institute where he was a visiting scientist. Prior to that post, he was a Junior Research Fellow in the Department of Psychiatry and Churchill College, University of Cambridge.
He completed a Medical Doctorate at the University of Melbourne and worked on network neuroscience for his Ph.D. at the University of New South Wales, Sydney.
Posted on Monday, August 26, 2019 in brain model, data science, neuroscience, Ralph E. Powe Junior Faculty Enhancement Award, rubinov,Biomedical Engineering, Electrical Engineering and Computer Science, Home Features, News, News Sidebar, Research