Senior CE design team delivers ambitious plan for green space over busy interstate corridor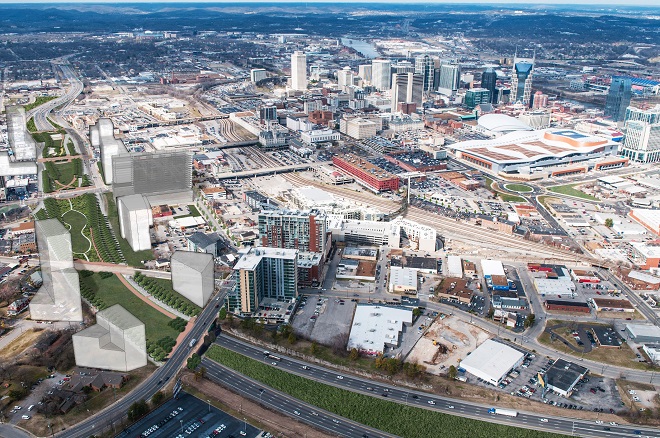 A land bridge over a section Nashville's Interstate 65 corridor would create 14 acres of public green space, reconnect neighborhoods and put Music City on a leading trend in urban planning.
Three senior civil engineering students worked with the Nashville Civic Design Center on a feasibility study for such an undertaking and identified no "fatal flaw that should prevent further consideration of [a] cap project." The center sponsored the team's senior design project, which looked at engineering aspects, potential costs, utility conflicts and existing traffic patterns, including pedestrian access and accidents.
The potential price tag is high – $234 million if started today. The students used data from similar projects either finished or in the works in Dallas, Atlanta, Pittsburgh and Philadelphia to arrive at the figure.
"We were surprised by how ideal the site was from a variety of perspectives, such as utilities, bike and pedestrian connectivity, etc.," said Ian Faucher, BE '19.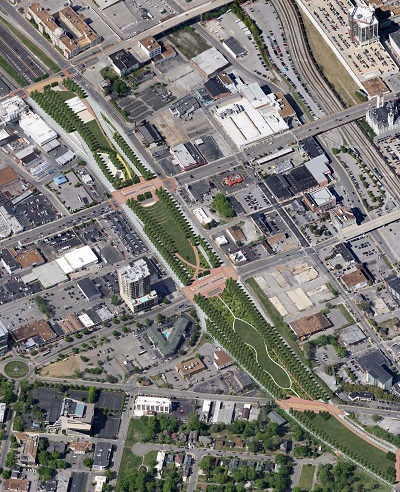 "The project definitely changed the way we think about urban spaces and interstates in particular. The vision that NCDC has defined for the interstate cap is so bold that it really stretched the boundaries of what we thought possible for the Nashville community," he said.
"We're usually trained in engineering to think of projects discretely, changing their surroundings over a period of a year or two. This project was an opportunity to think about how engineering can reshape a large section of a city over multiple decades, which was really exciting."
As envisioned, the project would cap Interstate 40/65 between 12th Avenue on the south and Church Street on the north, creating an area like a tunnel 3,500 feet long and roughly 250 feet wide for the expressway.
The three engineering students — Claire Chandler and Hunter Conti in addition to Faucher — all were campus planning interns, civil engineering majors and 2019 graduates. The team also won the department's award for Best Senior Design project.
Advisers included Gary Gaston and Eric Hoke from the design center, Charlie Smith and Mary Vavra from Barge Design Solutions, Michael Payne from S&ME and Peter Westerholm of the Greater Nashville Regional Council.
"We would be thrilled to see an interstate cap reconnect neighborhoods in an inclusive way, provide much-needed green space, and make Nashville a more beautiful, more livable city," the team said in a statement.
The project was one of three sponsored by the Nashville Civic Design Center. One involved designing a smart kiosk system for rented paddle craft that stores and locks the equipment using power generated by a subsurface microturbine in the Cumberland River and stored in batteries. A separate civil engineering team created an initial design of a structural plan for infill, multifamily housing above a Nashville bus terminal.