Simaan honored as IEEE Fellow for robotics advancements
Nabil Simaan, professor of mechanical engineering, has been elevated to IEEE Fellow by the Board of Directors of the Institute of Electrical and Electronics Engineers.
The award – effective January 1, 2020 – recognizes Simaan for contributions to dexterous continuum robotics for surgery. Technologies developed by his group have advanced surgical robotics by enabling steerable safe access and less invasive surgery.
Simaan also holds the titles of professor of computer science and otolaryngology and is a Vanderbilt Institute for Surgery and Engineering affiliate.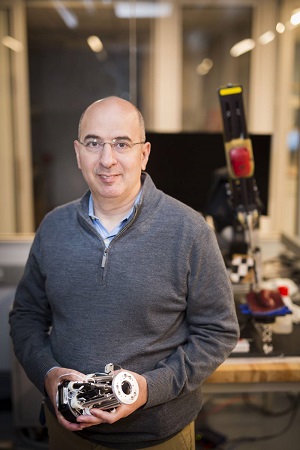 His work spans several domains of engineering with applications to minimally invasive surgery, otolaryngology, ophthalmic surgery and urologic surgery. His research has resulted in new forms and capabilities of continuum robots for surgery. Throughout his research, Simaan has created new approaches for achieving safe deep anatomical access and has advanced the concept of intelligent surgical robots with integrated sensing and complementary situational awareness.
For example, a new continuum robot designed Simaan and his group achieves multi-scale motion and may open a huge world of previously impossible complex microsurgeries. The robot can provide both a large macro motion workspace for surgical intervention as well as a small micro motions workspace with motion resolutions of 1 micron or less.
For a sense of scale, an inch contains 25,400 microns. A human red blood cell is about eight microns wide, the same size as some bacteria and significantly smaller than the width of the average human hair.
Simaan holds 13 patents and has contributed to the development of several new commercial surgical systems that use his technology. He has made outstanding contributions as an educator and as a practitioner that already have advanced surgical robotics industry.
He heads the Advanced Robotics and Mechanisms Applications laboratory, which he began at Columbia University and moved to Vanderbilt when he joined the engineering faculty in 2010. Research interests include human-robot interaction, robotic systems for surgical assistance, robot-assisted manufacturing, theoretical kinematics of mechanisms, synthesis and optimization of robots and mechanisms, design of flexure mechanisms and flexible robots, parallel robots, actuation redundancy and kinematic redundancy.
Simaan has served as an Editor for IEEE ICRA, Associate Editor for IEEE Transactions on Robotics, editorial board member of Robotica, Area Chair for Robotics Science and Systems and Corresponding Co-Chair for the IEEE Technical Committee on Surgical Robotics.
He received his Ph.D. from the Technion-Israel Institute of Technology in 2002 and was a post-doctoral scientist at Johns Hopkins University.
Posted on Monday, December 2, 2019 in IEEE Fellow, Nabil Simaan, surgical robots, ViSE,Electrical Engineering and Computer Science, Home Features, Mechanical Engineering, News, News Sidebar, Research