Structural monitoring pioneer Douglas Adams named AAAS Fellow
Douglas Adams, Daniel F. Flowers Professor, has been named a fellow of the American Association for the Advancement of Science for extraordinary research contributions in experimental nonlinear dynamic systems with societal impacts in the energy, national security and manufacturing sectors.
AAAS also cited Adams, Distinguished Professor of Civil and Environmental Engineering, for influential academic leadership.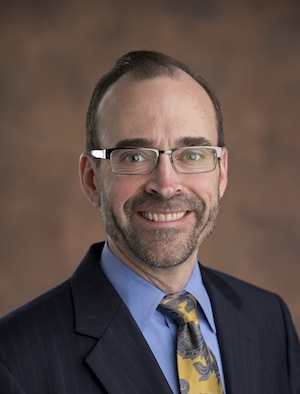 Adams studies the health of materials and machines using sensors to reveal hidden signatures. His group pioneered the development of nonlinear approaches for structural health monitoring to prevent failure in intelligent systems in the energy, security and manufacturing sectors. The applications range from aerospace and automotive systems to defense and security platforms to energy systems that include wind turbines and batteries.
Upon joining the Vanderbilt faculty in 2013, he founded the Laboratory for Systems Integrity and Reliability, a facility of 20,000 square feet that is uniquely equipped and staffed for observing how engineered systems behave in realistic experiments at a full scale, accelerating the translation of research discoveries into solutions that address societal grand challenges.
For example, Adams leads Vanderbilt in the national $259 million Institute for Advanced Composites Manufacturing Innovation. The institute is funded by the U.S. Department of Energy in collaboration with the University of Tennessee and Oak Ridge National Laboratory, plus more than 120 corporate, federal and university partners. The goal is transforming U.S. capability to produce products ranging from fuel-efficient, safe composite automobiles to lightweight wind turbines.
Adams, who chairs the Department of Civil and Environmental Engineering, also holds a secondary appointment as professor of mechanical engineering. Research interests include nonlinear structural dynamics and vibrations, structural health monitoring, diagnostics and damage prognosis and noise and vibration control. He has authored 94 peer-reviewed journal papers and 198 other technical articles and book chapters as well as a textbook on structural health monitoring.
Adams has won multiple awards for classroom and online teaching and received more than a dozen research awards, including the Presidential Early Career Award for Scientists and Engineers and both the Society for Experimental Mechanics DeMichele and Lazan Awards. He is a Fellow of the American Society of Mechanical Engineers.
At Vanderbilt, he collaborated with the faculty to implement major improvements in the undergraduate curriculum emphasizing sustainable infrastructure, data science and other 21st century challenges. At the graduate level, Adams partnered with development staff to endow a department research seminar series and establish new awards for graduate student research excellence through donor support.
Eight School of Engineering faculty members now hold the distinction of AAAS Fellow. Election is an honor bestowed upon AAAS members by their peers.
New fellows will be presented with an official certificate and a blue rosette pin, representing engineering, in February at the AAAS Fellows Forum during the 2020 AAAS Annual Meeting in Seattle, Washington.
Posted on Tuesday, November 26, 2019 in AAAS Fellow, Advanced Composites Manufacturing Innovation, Douglas Adams, intelligent systems, LaSIR, structural health monitoring technology,Civil and Environmental Engineering, Home Features, Mechanical Engineering, News, News Sidebar, Research