Vanderbilt team ready for live DARPA spectrum challenge championship in L.A.; Winner will get $2 million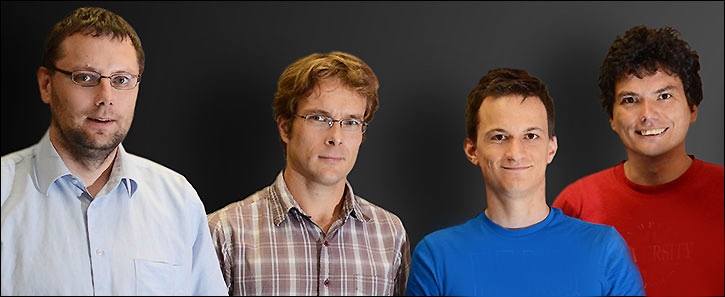 Top prize in round one in 2017, second place in round two in 2018, and a prediction to cinch one of the top three spots in the live championship round of the DARPA Spectrum Collaboration Challenge, Vanderbilt's MarmotE team will be ready to match radios and wits with nine other finalists.
With no real estate left to expand the radio frequency spectrum, DARPA's SC2 seeks machine-learning algorithms and wireless software-defined radio designs to sort out frequency priorities based on urgency – emergency and critical safety scenarios in real time – and to cooperate rather than compete for bandwidth.
The championship will showcase the future of dynamic spectrum sharing in a live competition at Mobile World Congress 2019 in the Los Angeles Convention Center starting at 3:30 p.m. PT on Wednesday, Oct. 23, 2019. Several rounds of competition will see teams eliminated based on scores and performance.
Watch the competition live on DARPAtv at 5:30 p.m. Central time Wednesday, Oct. 23:

The first, second, and third place winners will walk away with $2 million, $1 million, and $750,000 in prizes, respectively. MarmotE won $750,000 in rounds one and two.
"One thing is certain, we have a very good, very solid radio and Miklos, our mathematician, is the 'real deal,'" said Peter Volgyesi,  the team's lead and a research scientist at the Vanderbilt Institute for Software Integrated Systems and a lecturer in the School of Engineering's Department of Electrical Engineering and Computer Science. "Truthfully, in early rounds, most teams struggled to build sufficient radios."
Miklos Maroti, a former EECS research associate professor, is an associate professor at the University of Szeged, Hungary. Sandor Szilvasi, PhD'14 and former ISIS research assistant, is a radio frequency and FPGA (field-programmable gate array) engineer in Atlanta. Peter Horvath, a former postdoctoral scholar at ISIS, is an associate professor at Budapest University of Technology.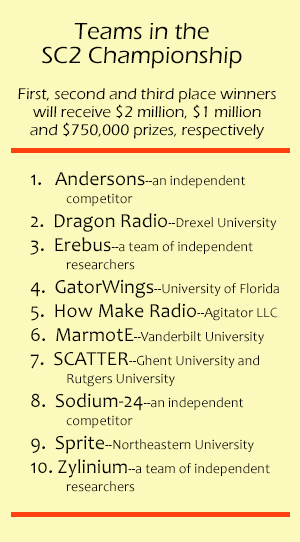 "Miklos is main architect and the most active developer on our team," said Volgyesi. "Peter [Horvath] is a radio frequency and digital communication expert who offers theoretical support and Sandor helps in the performance evaluation of our design."
Volgyesi thinks MarmotE has a good shot at one of the top three spots.  "Our team has a strong background in low-power multi-hop wireless network communication and time synchronization. Our approach is: 'We question every assumption, have original ideas and can engineer a working and robust solution.'"
The team members work only in their spare time, across months of development and hundreds of scrimmage hours. The scrimmages every six weeks to two months with other teams give MarmotE a snapshot of "where we are, but we don't know rankings and we cannot discuss strategy," Volgyesi said.
"Central management of the spectrum is simply not scalable and pretty wasteful, but ad-hoc sharing as implemented in WiFi is not working either," said Maroti. "The best solution to spectrum management would be a combination of distributed cooperation and adaptation driven by the latest advances of machine learning."
Today's approach, which is nearly a century old, isolates wireless systems by dividing the spectrum into rigid, exclusively licensed bands allocated over large, geographically defined regions. Access to the spectrum is rationed in exchange for the guarantee of interference-free communication. However, it is human-driven and not adaptive to the dynamics of supply and demand. At any given time, many allocated bands are unused by licensees while other bands are overwhelmed, squandering the spectrum's enormous capacity and unnecessarily creating conditions of scarcity.
The hope is that devices can learn to autonomously manage their own spectrum use. That means training devices to listen for gaps in transmissions on viable frequencies, broadcast which frequencies they intend to use ahead of time and even negotiate with nearby devices that also need to send and receive signals.
SC2 teams will develop these breakthrough capabilities by taking advantage of recent advances in artificial intelligence and machine learning, and the expanding capacities of software-defined radios. They will develop access strategies in which radio networks will autonomously collaborate and reason about how to share the RF spectrum.
"Ultimately this competition aims not only to challenge innovators in academia and business to produce breakthroughs in collaborative AI, but also to catalyze a new paradigm for spectrum use that can help usher in an era of spectrum abundance," said Paul Tilghman, the DARPA program manager leading SC2.
Contact: Brenda Ellis, (615) 343-6314
brenda.ellis@vanderbilt.edu
Posted on Thursday, October 17, 2019 in AI, DARPA Spectrum Challenge, dynamic spectrum sharing, ISIS, machine learning, MarmotE, radio requency spectrum, SC2, wireless software-defined radio,Electrical Engineering and Computer Science, Home Features, Media, News, News Sidebar, Research