Webster named Richard A. Schroeder Chair in Mechanical Engineering
Robert J. Webster III, whose work has led to tools and methods for surgeries that require little or no incision, has been named the Richard A. Schroeder Chair in Mechanical Engineering.
He is among Vanderbilt University's newest endowed chair holders. In all, eight recipients were celebrated for their path-breaking scholarship and research by family members, donors, colleagues and friends during a Feb. 25 ceremony at the Student Life Center.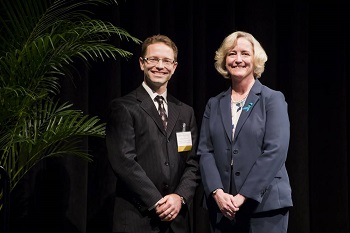 Provost and Vice Chancellor for Academic Affairs Susan R. Wente noted in her opening remarks that Vanderbilt's commitment to excellence and philanthropic spirit began with the post-Civil War founding gift of Commodore Cornelius Vanderbilt. He sought to "strengthen the ties which should exist between all sections of our current country."
"Our 2019 vision of the Commodore's dream is carried forward today, thanks to the intellectual leadership by our faculty—who teach and train students to become powerful forces for progress, for innovation and for equity in our world," Wente said.
Wente spoke about Webster's work. His research pursues the interface of surgery and engineering and includes development of robotic augmentation systems and devices to improve surgical precision and patient outcomes.
His Medical Engineering and Discovery (MED) Laboratory  is affiliated with the Vanderbilt Institute for Surgery and Engineering, and he is a VISE steering committee member.
Webster's contributions have been recognized by many awards, including the Vanderbilt Chancellor's Faculty Fellow award, the National Science Foundation CAREER award, and others by professional societies. Achievements include 21 best paper nominations, 12 best paper awards, more than 170 published technical papers and nearly 80 invited presentations.
Webster also is a noted teacher and mentor. He has supervised 88 undergraduate research projects, co-authoring papers with 38 undergraduates. He received the School of Engineering Excellence in Teaching Award in 2014.
Seven other Vanderbilt faculty members were recognized at Monday's event:
In her remarks Wente thanked all of the donors whose generosity has made possible Vanderbilt's endowed chairs, including Martha Ingram, Carolyn and Robert Rogers, and Anita and Antonio Gotto; all of whom attended the celebration. Richard Schroeder (BE'74), for whom Webster's professorship is named, is a longtime friend and benefactor of the School of Engineering, and will be inducted into its Association of Distinguished Alumni on March 21.
"Our 2019 vision of the Commodore's dream is carried forward today, thanks to the intellectual leadership by our faculty—who teach and train students to become powerful forces for progress, for innovation and for equity in our world," she said. "It's also carried forward by our partners, who support the university's education and research missions, and we're truly grateful for their guidance and investment."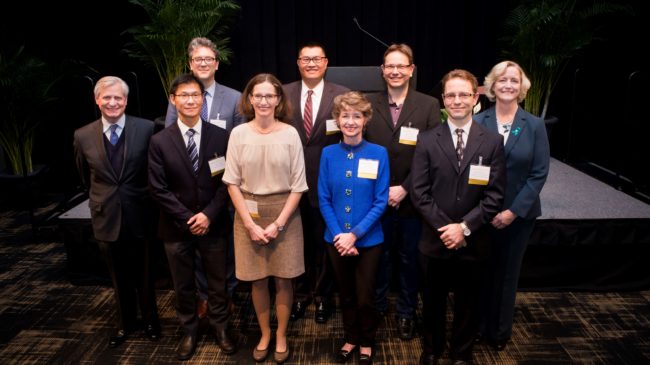 Posted on Thursday, February 28, 2019 in endowed chair, medical robotics, Robert J. Webster, surgical robots, Susan Wente, Wente,Biomedical Engineering, Mechanical Engineering, News, News Sidebar, Research