Women of VISE engage Whitsitt Elementary students in optics and ultrasound basics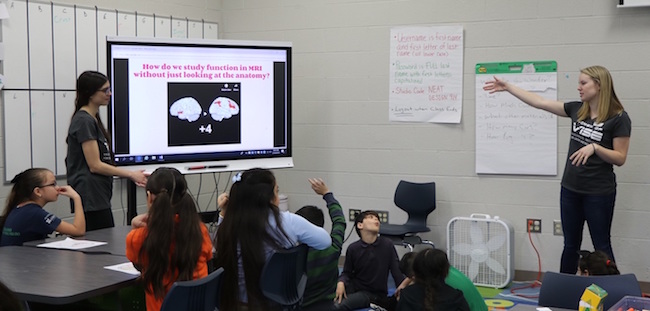 Gummy bears, laser pointers, slinky toys and gooey, stretchy hands illustrated basics in optics, wave propagation and tumor registration to more than 100 Nashville public elementary students by biomedical engineering graduate students who took E-Week on the road.
The hands-on activities were organized by Women of VISE – Vanderbilt Institute for Surgery and Engineering – for grades 3 and 4 at Whitsitt Elementary School. Five students and Catie Chang, an engineering faculty VISE affiliate, brought props, lesson plans and enthusiasm to illustrate everything from light transmission and absorption to tumor registration in organs and tissues.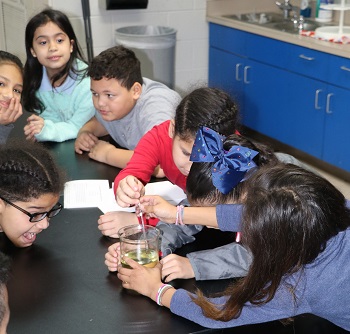 "Outreach events such as this one are one of the most rewarding aspects of science and engineering to me, especially when working with younger kids," said Abbie Weeks, a biomedical engineering graduate student. "They are enthusiastic and curious. They volunteer without hesitation. They always try to answer the question. Children are so anxious to explore any new idea that their inherent curiosity drives the activity or presentation."
She was joined by Kristy Walsh, Emelina Vienneau, Winona Richey, Sarah Goodale and Catie Chang, assistant professor of computer science, electrical engineering and computer engineering.
The group brought its "wow" game with gummy bears and laser pointers of different colors, showing how a red gummy bear transmits red light but absorbs blue or green light. The students played with different color combinations for a lesson in optics that continued with refraction and how light travels at different speeds through different materials.
The Whitsitt students drew fuzzy tumors on malleable hands to understand how organ and tissue deformation complicate registration as preparation for surgery or other cancer treatment.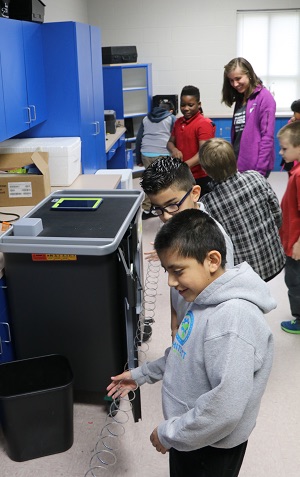 In an introduction to ultrasound, they stretched and manipulated slinky-type toys to understand sound waves, wave propagation and properties of waves such as amplitude, frequency and length.
"I have a lot of fun taking complex topics I'm interested in and boiling it down to the fundamental concepts and finding ways to engage with the students through demos and activities," Vienneau said.
"When I was in grade school I would have loved to see presentations about crazy science topics that you don't normally get to learn about, and my hope is that I can inspire some of the students to stay interested in science and potentially pursue a career in a STEM-related field," she said.
The VISE group talked about techniques for imaging the brain, computer models to better predict tumor location and the excitement of problem-solving at the intersection of engineering and surgery. The STEM visit effort coincided with E-Week, a national observation that highlights engineering disciplines and career options.
"Outreaches such as these offer a fantastic chance to introduce young students to the exciting, diverse range of questions that are addressed in science and engineering," Chang said.
"We loved talking with the students about how we study the brain using magnetic resonance imaging," she said. "They were so curious, and impressed us with their endless questions: which parts of the brain activate when we to laugh at something funny? How do we dream?"
"At the end," Chang said, "one student asked if we could please come back soon because she wanted to keep talking about the brain."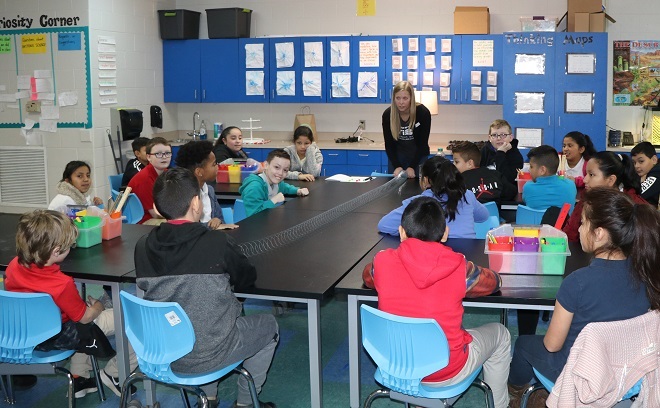 Posted on Sunday, February 24, 2019 in Catie Chang, STEM education, STEM outreach, ViSE,Biomedical Engineering, Electrical Engineering and Computer Science, Home Features, News, News Sidebar