Yale expert in advanced membrane materials to deliver Hall Lecture on March 13
Menachem Elimelech, an internationally recognized scholar of membrane-based technologies for next-generation desalination and water purification, will deliver the John R. and Donna S. Hall Engineering Lecture on March 13.
Elimelech is the Roberto Goizueta Professor at the Department of Chemical and Environmental Engineering at Yale University. His research focuses on the water-energy nexus, next-generation materials membranes and the environmental applications of nanomaterials.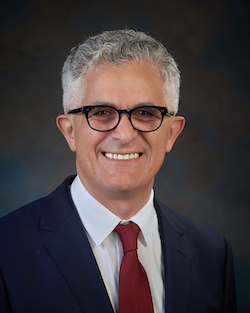 "Water scarcity is one of the greatest global crises of our time. To combat water scarcity issues, water purification technologies will be increasingly needed to produce drinking water from unconventional sources such as seawater, brackish groundwater and wastewater," he said. "Membrane-based processes typically offer superior energy-efficiency, reliability and water quality compared to conventional processes."
His talk, "Next Generation Membrane Materials for Desalination and Wastewater Reuse," is free and open to the public. It will cover existing membrane technologies, highlight their limitations and illustrate the critical needs for new materials. Elimelech also will describe molecular-level design approaches to fabricate highly selective membranes, focusing on novel materials such as aquaporin, synthetic nanochannels and self-assembled block copolymers.
Such next-generation materials seek to break the tradeoff between permeability and water/salt selectivity, which has limited advancements in reverse osmosis, the primary desalination in use now.
The lecture will be at 4 p.m. Wednesday, March 13, at the Jacobs Believed in Me Auditorium in Featheringill Hall. A reception from 5 to 6 p.m. in the Featheringill Atrium.
The looming water crisis is exacerbated by the process of hydraulic fracturing, or fracking, a deep-well drilling method that extracts oil and gas. A study published in Science Advances in 2018 reported companies used 770 percent more water per well in 2016 than in 2011 across in major U.S. gas- and oil-producing regions. It is estimated the industry's water use and wastewater production could multiply 20-fold for oil production and 50-fold for gas drilling by 2030.
Elimelech was elected to the U.S. National Academy of Engineering in 2006. Among his other awards are the 2005 Clarke Prize for excellence in water research, the Eni Prize for 'Protection of the Environment' in 2015 and election to the Chinese Academy of Engineering in 2017. A widely cited researcher in chemistry and the environment/ecology, Elimelech also recognized as a teacher and mentor. He received the W.M. Keck Foundation Engineering Teaching Excellence Award in 1994, the Yale University Graduate Mentoring Award in 2004, and the Yale University Postdoctoral Mentoring Prize in 2012.
The John R. and Donna S. Hall Engineering Lecture Series was established in 2002 to allow Vanderbilt School of Engineering students hear renowned engineers from universities and agencies address engineering topics of particular interest. The series is funded by an endowment founded by James Gray to honor the Halls. John Hall, a 1955 Vanderbilt engineering graduate, is retired chairman and chief executive officer of Ashland, Inc. He is a former president of the Vanderbilt Board of Trust and a recipient of the School of Engineering Distinguished Alumni Award. Donna Hall has served on several boards of directors of colleges and arts organizations, including the Kennedy Center's President's Advisory Committee on the Arts.
Posted on Thursday, February 28, 2019 in desalination technology, freshwater supply, Hall Lecture, John R. and Donna S. Hall Lecture, wastewater,Chemical and Biomolecular Engineering, Civil and Environmental Engineering, Media, News, News Sidebar, Research