A path toward shapeshifting new materials—Engineering's Hall Lecture Feb. 12
Next-generation materials will be defined by their ability to adapt, change their properties, change their shape—shapeshifters.
"We want to be able to make material that can flow when it wants to flow, that can be rigid when it needs to be rigid, that can appear one way or appear another way," said Sharon Glotzer, John Werner Cahn Distinguished University Professor of Engineering and the Stuart W. Churchill Collegiate Professor of Chemical Engineering at the University of Michigan at Ann Arbor.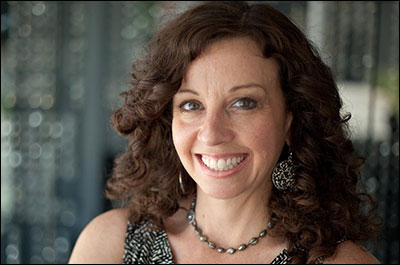 "Being able to do that means you understand everything about that material at the level of the individual building blocks and you can control how those building blocks are arranged with nanotechnology," said Glotzer, also the Anthony C. Lembke Department Chair of Chemical Engineering at Michigan.
Glotzer will deliver the Vanderbilt School of Engineering's spring 2020 John R. and Donna S. Hall Engineering Lecture on Wednesday, Feb. 12, at 4:10 p.m. in the Jacobs Believed in Me Auditorium in Featheringill Hall.
Her lecture—Engineering Colloidal Matter and the Entropic Bond—is open to the public and a reception will follow at 5 p.m. in Featheringill Hall's Adams Atrium.
Glotzer is charting a path toward materials with new properties by cleverly altering the nanoparticles used to build them. She runs a large computational research group of 35 students, postdocs, and research staff, and has published more than 200 refereed papers and presented over 300 plenary, keynote and invited talks around the world.
"Today, scientists achieve something akin to alchemy when we change materials' building blocks by adding atoms or molecules to them, or even changing their shape. Such changes affect how the building blocks fit together, which in turn controls material's behavior and properties," said Glotzer.
"The ability to design and make the perfect material with just the right properties to do want we want, how we want, and when we want is the holy grail of materials research," she said.
Glotzer's research on computational assembly science and engineering aims toward predictive materials design of colloidal and soft matter, and is sponsored by the NSF, DOE, DOD and Simons Foundation.
Among other notable findings, Glotzer invented the idea of "patchy particles," a conceptual approach to nanoparticle design. She showed that entropy can assemble shapes into many structures, which has implications for materials science, thermodynamics, mathematics, and nanotechnology. Her group's "shape space diagram" shows how matter self-organizes based on the shapes of the constituent elements, making it possible to predict what kind of material—glass, crystal, liquid crystal, plastic crystal, or quasicrystal—will emerge.
She is a member of the National Academy of Sciences and the American Academy of Arts and Sciences, and a fellow of the American Physical Society, the American Association for the Advancement of Science, the American Institute of Chemical Engineers, the Materials Research Society, and the Royal Society of Chemistry.
Glotzer serves on several boards and advisory committees of the National Science Foundation, the Department of Energy, and the National Research Council. She is a Simons Investigator, a former National Security Science and Engineering Faculty Fellow, and the recipient of numerous other awards and honors, including the 2016 Alpha Chi Sigma Award from the American Institute of Chemical Engineers, 2014 MRS Medal from the Materials Research Society and the 2008 Charles M.A. Stine Award from the American Institute of Chemical Engineers.
Established in 2002, the John R. and Donna S. Hall Engineering Lecture Series allows Vanderbilt engineering students to hear renowned engineers from universities and agencies address engineering topics of particular interest.
Contact: Brenda Ellis, 615 343-6314
brenda.ellis@vanderbilt.edu
Posted on Friday, January 24, 2020 in John R. and Donna S. Hall Engineering Lecture, materials research, nanotechnology, Sharon Glotzer,Alumni, Chemical and Biomolecular Engineering, Home Features, News, News Sidebar, Research