Alumnus-founded GreenLight Medical expands to answer COVID-related needs
As the COVID-19 crisis hit, businesses around the world pushed pause. GreenLight Medical CEO Austin Dirks saw things differently.
"If we could double down and get aggressive, this could be an opportunity," he says. "As medical supplies became scarce, we could connect the dots—linking hospitals and health care systems with suppliers."
GreenLight bills itself as a smarter way to evaluate new medical technology, using a cloud-based system that pulls together quality and value-based data to streamline collaborative purchasing decisions in hospital and health care systems.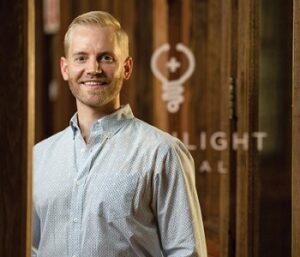 "Hospitals are used to buying the exact same thing from the exact same suppliers," Dirks says. "With the pandemic, everything was in short supply—PPE [personal protective equipment], swabs, antibody tests. Hospitals had to look for new companies and new suppliers while dealing with the crisis."
Dirks' usual rounds of sales calls and hospital visits had ground to a halt as clients clamored for information on new technologies, such as evaluating thermal scanners for entryways. "That was the pivot for us," he says. "We needed a virtual product library."
Dirks quickly tapped his connections to hire six additional full-time researchers, many of whom were Vanderbilt graduates. GreenLight's COVID-19 Product Library debuted in mid-April.
The idea for GreenLight took root with Dirks after he earned his MBA from Harvard Business School in 2014. Talking with fraternity brother Stephen Saine, BE'04, Dirks asked why GreenLight couldn't be the Amazon of medical technology. "I saw the twinkle in his eye, and we were off," Dirks says. Saine joined in as the technical co-founder and later, in 2019, as full-time CTO.
Dirks launched GreenLight in San Francisco before relocating the company to Nashville in 2016. Interest sparked with both venture capitalists and clients, and the company soon picked up top accolades from the Nashville Business Journal, the Nashville Tech Council and the Nashville Entrepreneur Center.
On the near horizon, Dirks plans to take GreenLight into vaccines and pharmaceuticals. "Once COVID vaccines are approved by the FDA, there's going to be a huge demand," he says. "We will be a trusted interface, sorting out the clutter for the market and helping clients make highly informed decisions."
by Jan Read
Posted on Monday, November 30, 2020 in COVID-19, Entrepreneurship in a Time of COVID-19, GreenLight Medical, PPE,Biomedical Engineering, Electrical Engineering and Computer Science, Home Features, News, News Sidebar