ASCE chapter's Ashley Smith receives inaugural Richard H. Nettleton Outstanding Practitioner Advisor Award
The practitioner advisor to the School of Engineering's chapter of the American Society of Civil Engineers is the recipient of the inaugural Richard H. Nettleton Outstanding Practitioner Advisor Award.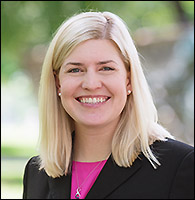 Ashley T. Smith is the first recipient of the Nettleton award for outstanding advisors throughout ASCE nationally and internationally. The award was renamed in 2019 to honor Nettleton. The practitioner advisor award has been presented annually by the ASCE Committee on Student Members. The award recognizes civil engineering professionals who serve as practitioner advisors and show outstanding leadership and involvement in ASCE student chapters at local universities.
"I'm very honored to receive this award. Being Vanderbilt's Practitioner Advisor for more than a decade has been a great joy and passion in my life," said Smith. "I've loved getting to know and work with so many civil engineering students over the years and I am so proud of our Vanderbilt ASCE student chapter and all that they accomplish."
Smith received a BE degree in civil engineering at Vanderbilt in 2004. She currently serves as a member of the Department of Civil and Environmental Engineering's advisory board. Smith is a registered professional engineer and a senior project manager in the transportation group at CDM Smith. Her expertise is in civil site design and she has worked on municipal, commercial, health care, hospitality, mixed-use and residential projects throughout the U.S. Smith is a past president of the ASCE Nashville Branch and the ASCE Tennessee Section.
"Ashley has demonstrated a commitment to her program and students by getting to know the Vanderbilt ASCE officers each year. She is enthusiastic and welcoming, and she serves as a great connector of students with the Nashville professional engineering community," said Lori Troxel, professor of the practice of civil and environmental engineering and faculty advisor to the ASCE student chapter.
Richard H. Nettleton was a design and construction engineer in the Virginia Beach Public Utilities Department. He was one of the victims of a mass shooting there on May 31, 2019. Nettleton enjoyed mentoring the younger engineers who worked for him and the students at Old Dominion University, where he served for 15 years as the ASCE chapter's Practitioner Advisor. After the events of May 31, the Outstanding Practitioner Award was renamed to honor him.
Contact: Brenda Ellis, 615 343-6314
brenda.ellis@vanderbilt.edu
Posted on Wednesday, September 23, 2020 in ASCE, ASCE student chapter, Ashley T. Smith, civil engineering, practitioner advisor, Richard H. Nettleton award,Alumni, Civil and Environmental Engineering, Home Features, News, News Sidebar