Audrey Bowden is 2021 Fellow of The Optical Society
Audrey Ellerbee Bowden has been elected as a 2021 Fellow Member of The Optical Society for outstanding achievements in the development of optical devices, image processing algorithms and systems for biomedicine.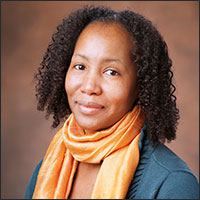 Bowden, associate professor of biomedical engineering, has developed several new system designs that advance optical coherence tomography, an imaging technique that provides high-resolution imaging of subsurface tissue structures.
She works with clinicians to apply these new tools for early detection of skin and bladder cancer. She also focuses on developing and deploying low cost point-of-care technologies for rural and resource-constrained global health applications.
Bowden is a Dorothy J. Wingfield Phillips Chancellor's Faculty Fellow at Vanderbilt. She is the recipient of numerous awards, including the Air Force Young Investigator Award, a NSF Early Career Award, the Hellman Faculty Scholars Award, and the Phi Beta Kappa Teaching Award. She is a former associate editor of IEEE Photonics Journal and a member of numerous professional committees.
Bowden is a Fellow of SPIE, international society for optics and photonics. She has served SPIE as an Arthur H. Guenther Congressional Fellow, a program offered by SPIE and The Optical Society (OSA). Bowden has served as an International Fellow at Ngee Ann Polytechnic in Singapore.
Bowden joined the School of Engineering in 2018 as a tenured professor from Stanford University where she was a member of the electrical engineering faculty for eight years.
Bowden received a B.S.E. degree in electrical engineering from Princeton University and a Ph.D. in biomedical engineering from Duke University. She completed postdoctoral training in chemistry and chemical biology at Harvard University.
Contact: Brenda Ellis, 615 343-6314
brenda.ellis@vanderbilt.edu
Posted on Thursday, October 8, 2020 in Audrey Bowden, biomedical engineering, biomedicine, fellow, image processing algorithms, optical devices, OSA, The Optical Society,Alumni, Biomedical Engineering, Home Features, News, News Sidebar