Baroud receives NSF Early CAREER Award to predict and inform community hazard response
Hiba Baroud has received a 2020 NSF Faculty Early CAREER Development grant to boost community resilience and sustainability through a three-pronged project that starts with a better understanding of how people and infrastructures interact during hazards.
The five-year, $500,000 grant, "Policy-Infrastructure-Community Interdependencies: The Next Frontiers in Dynamic Networks," begins July 1, 2020.
Baroud, assistant professor of civil and environmental engineering, develops and utilizes analytical methods to measure the risk, reliability and resilience in critical infrastructure systems—in particular, to predict disruptive events and to model recovery processes. The NSF grant will support her work that fuses individual and community behavior with infrastructure performance using dynamic network models.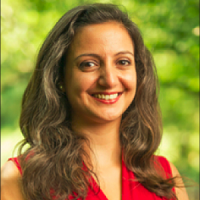 The project combines integrated research, education and outreach on two cities with very different profiles—fast-growing Nashville, TN, which is turning to community-focused and smart solutions, and Colombo in Sri Lanka, which faces two monsoon seasons each year that affect thousands of people.
The goal, Baroud said, "to improve critical infrastructure risk management and transform policy-making to ensure the resilience and sustainability of communities under short- and long-term risks" and provide opportunities for learning lessons across cities.
Disasters are rife with uncertainty. Infrastructure systems are highly interdependent, and a failure in one can trigger failures in others. Lack of consideration of the social and organizational aspects in infrastructure management can make matters worse, leading to more harm during recovery efforts.
"If we capture the dynamics of such interdependencies and predict the structure and performance of networks under uncertainty, we can proactively intervene to prevent cascading failures, reduce losses and improve recovery," Baroud said.
To those ends, the project has three objectives:
Develop the next generation of dynamic networks to model the uncertain interdependencies between policy, infrastructure and the community;
 Train future engineering practitioners and researchers through community engagement and human-centered research projects; and
Increase public awareness of disaster preparedness through media, arts and Girl Scouts activities.
"Educating future engineers through interdisciplinary research and community engagement helps the students think about the importance of addressing inclusion and diversity in engineering solutions," she said.
Baroud joined the faculty of the school of engineering in fall 2015. She is the recipient of the inaugural Littlejohn Dean's Faculty Fellowship, and endowed fellowship for junior faculty members, and was in the first cohort of the Chancellor's Global Voices Fellowship, a semester-long program designed to expand Vanderbilt's global reach by amplifying the impact of faculty academic research.
Baroud earned a Ph.D. in Industrial and Systems Engineering from the University of Oklahoma. She has a Master's of Mathematics from the Department of Statistics and Actuarial Science at the University of Waterloo, and a Bachelor's degree in Actuarial Science from Notre Dame University, Lebanon.
CAREER: The Faculty Early Career Development (CAREER) Program offers the most prestigious awards in support of early-career faculty who have the potential to serve as academic role models in research and education and to lead advances in the mission of their department or organization. Baroud's award is under the division of the NSF Civil, Mechanical and Manufacturing Innovation.
Posted on Wednesday, March 11, 2020 in Hiba Baroud, infrastructure, Nashville, NSF CAREER Award, resilience, risk and reliability, Sri Lanka,Civil and Environmental Engineering, Home Features, News, News Sidebar, Research