Biophotonics researchers 3D print masks that accommodate filter changing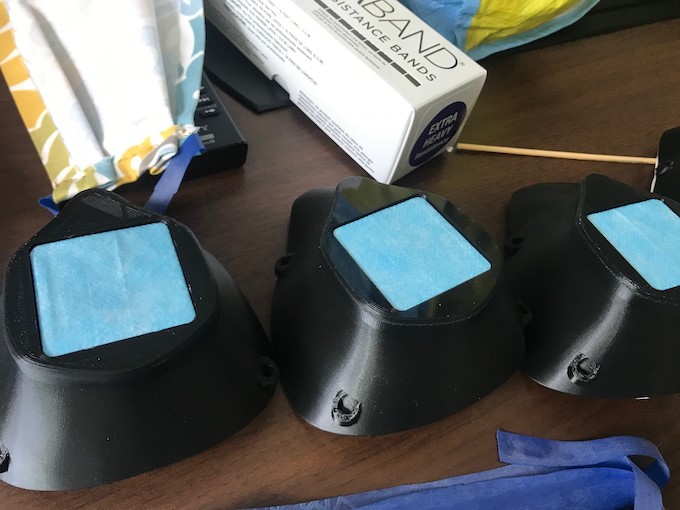 Two 3D printers at the Vanderbilt Biophotonics Center are running around-the-clock, printing protective masks rather than their usual task—prototyping components for custom optical instruments that can cost millions of dollars.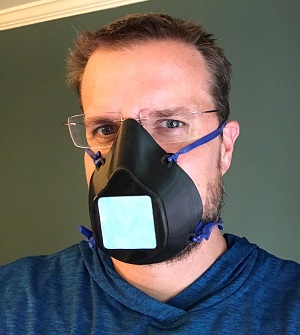 Researchers program the printers from the Vanderbilt-networked laptops they have at home. Bryan Millis, a research assistant professor in the biophotonics center, collects the printed masks and reloads printer filament when he checks the VBC equipment on campus. Such checks would be done whether or not the printers were in use, as access to campus is restricted due to the global pandemic that upended every aspect of life and work.
Millis and colleagues mobilized after seeing media reports of people using T-shirts, scarves and other sub-par materials as respiratory protection to limit potential exposure to the novel coronavirus. The printed masks use a model developed and tested by a clinic in Montana earlier this year. While they are quick to cite that these masks have not been approved by the appropriate regulatory bodies (such as FDA) for clinical use, given the reports of limited supplies of personal protective equipment these "Montana Masks" could provide a reasonable solution until stocks are replenished.
"The primary benefit, other than the better protection it likely provides over a scarf or T-shirt, is that one surgical mask can be cut into up to six filter inserts for it," Millis said. "We thought in the case of health workers who have nothing else, it could provide a reasonable level of protection.
"We also thought that, given the recommendations by the CDC for ALL Americans to have face coverings, let's preserve the bona-fide masks for the front lines, and use these masks for the rest of us, extending the usefulness of limited supplies," he said.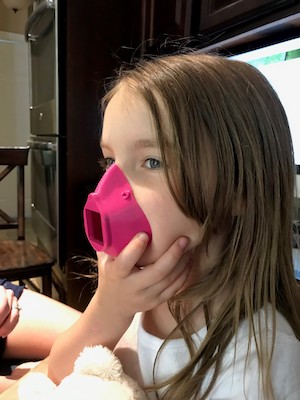 Production via 3D printing is far from efficient. Other methods, such as injection molding, can generate orders of magnitude higher scale but take time to ramp up. Because 3D printing deposits the material—in this case, PLA filament or —layer-by-layer, each adult mask takes up to 7.5 hours to print. Smaller masks for children take half as long, Millis said.
After seeing that VUMC did not have a lack of PPE for their front lines, the project looked locally to see who could benefit. So far, the project has produced 30 masks, most of them for Renewal House, a residential drug and alcohol treatment center in Nashville for women with children, where Millis' wife is director of programs. She, too, has a role in the mask-making production; Savak Millis attaches window gasket strips around each mask to create a face seal and strips cut from rolls of therapeutic bands used by physical therapists for attachment around the head.
The Montana Mask is a community model; creators made the 3D printer specifications freely available to help fill the gap in personal protective equipment during the COVID-19 crisis. Dozens if not hundreds of 3D printers are in use for the Make the Mask project, which has local coordinators across the U.S., as well as some in Canada, Australia, Germany and Morocco. Participants donate finished masks to hospitals that accept them, first-responders and non-profit groups.
The Vanderbilt Biophotonics Center personnel looked at several DIY mask designs. Rather than start from scratch, they adopted the Montana design because "it had the best balance of predicted protection and pure practicality from a fabrication standpoint," Millis said.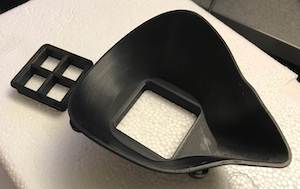 "We plan to continue producing these masks with the intention to distribute to those indicating a need," he said. "Additionally, we plan to have these available for our staff and faculty once we return to work.
"3D printing is slow, so we knew it wouldn't solve problems on a mass scale, but we wanted to do our part," Millis said.
E. Duco Jansen, Senior Associate Dean for Graduate Education and Faculty Affairs, whose own research and laboratory is in the Biophotonics Center said the printed mask project is only one of several efforts related to COVID-19 going on at the School of Engineering.
"It is great to see our researchers get creative and help in the battle against this pandemic," said Jansen, a professor of biomedical engineering.
CONTACT
Pamela Coyle, Engineering Communications
Pam.Coyle@Vanderbilt.edu
Twitter @VUEngineering
Posted on Tuesday, April 14, 2020 in 3D printing, Anita Mahadevan-Jansen, Biophotonics Center at Vanderbilt, COVID-19, Duco Jansen, personal protective equipment, PPE,Biomedical Engineering, Home Features, Media, News, News Sidebar