BME class repairs medical equipment at 3 hospitals in Guatemala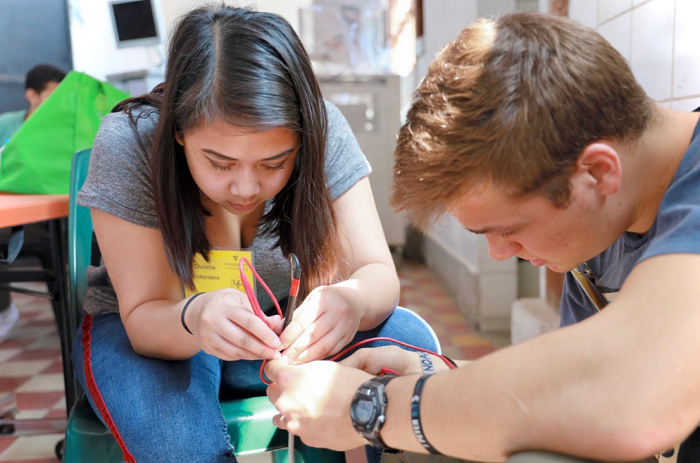 For a class of biomedical engineering undergraduates spring break was about frayed wires, disconnected connectors and malfunctioning monitors rather than sun, sand and surf.
A dozen students spent the week in Guatemala repairing medical equipment at hospitals as part of a service learning class taught by Senior Associate Dean for Undergraduate Education Cynthia Paschal, associate professor of biomedical engineering. Pascal and Nicholas Adams, research assistant professor of biomedical engineering, accompanied the group.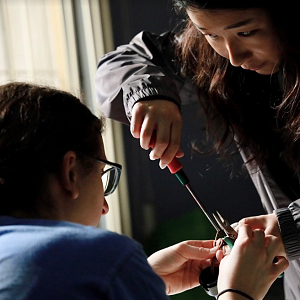 The team worked at three facilities: Hospital Materno Infantil de Juan Pablo II in Guatemala City, where they also met with engineering students from Universidad del Valle, and Obras Sociales del Hermano Pedro and Hospital Nacional Pedro de Bethancourt in Antigua.
Hospital Materno Infantil de Juan Pablo II had accumulated many malfunctioning items and broken medical equipment in the two years since Paschal's class made a similar trip in 2018. The students had plenty to do.
Jorie Budzikowski, Cerie Ock and Katie Stoehr salvaged two of three autoclaves, which are instruments that build up high temperatures and pressures to sterilize medical equipment.
Calibrating and balancing infant scales turned out to be more difficult than expected, especially when one of them was missing the indicator on its large weight. Rhett Britton did not want to waste the components and, with some help, bent some scrap metal into shape and epoxied a new pointer onto the weight.
In working on seven ECG units considered defective, Antonio Glenn realized none of them had the proper leads to connect electrodes to the patients. So he and two other students made makeshift electrodes with stranded wires delicately embedded in gel electrodes. This initial design worked and produced a functional ECG, but the group developed a better prototype by winding solid core wire around solder wire to form a solenoid-like wire that could quickly slide on and off the ECG modules.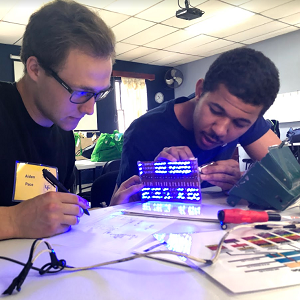 This design allowed the team, which expanded in size, to rapidly test the remaining ECG systems, assessing the general settings, printing capacity and different leads. From there the students confirmed many of the ECG modules were functional with minimal limitations.
"The collaboration is what enabled success and epitomized what it means to be engineers in the field–solving problems through communication and teamwork," the students wrote in a blog about their week.
At the two other hospitals the students tackled rooms filled with equipment. They worked with what they had, what they could find, what they could repurpose and what they could buy from a nearby store. Dozens of machines are now working; some were beyond help.
To prepare for the trip, the class spent two months working with electrosurgical units, sequential compression devices, defibrillators, vital sign monitors and other medical equipment to understand how the machines worked and how to track down and troubleshoot problems. sleuthing skills. Project C.U.R.E. Nashville, which collects equipment and supplies that local hospitals no longer need and distributes it to medical facilities in developing countries, provided the devices for the class to use.
This story summarizes components of blog posts by students about their week in Guatemala. More details are available at the blog itself. Below, the team stops for a group photo at El Arco de Santa Catalina in the heart of Antigua.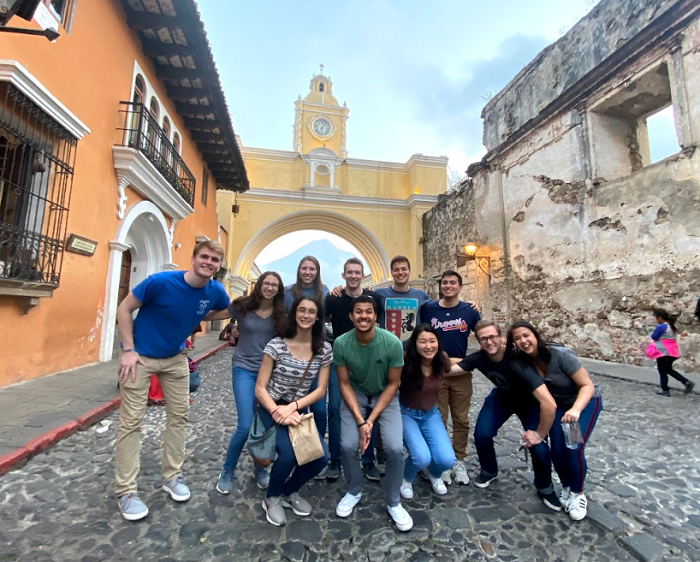 Posted on Wednesday, March 25, 2020 in Cynthia Paschal, Guatemala, medical devices, Nicholas Adams, service learning,Biomedical Engineering, Home Features, News, News Sidebar