BME junior selected for inaugural NIH program to pursue biomedical graduate degree
Lucy Britto is one of six Vanderbilt undergraduates selected as a MARC scholar in the inaugural 2020 cohort of an innovative National Institutes of Health program.
The NIH recently launched the Maximizing Access to Research Careers (MARC) Awards program to build more diverse talent pools within undergraduate students. Vanderbilt is among a select number of universities with a significant number of mentors with NIH or other extramural research support to win this award.
NIH's goal for the MARC program is to empower undergraduates with diverse backgrounds and with intentions to pursue research-focused biomedical Ph.D. or M.D./Ph.D. studies with the kind of technical, operational and professional skills that will help them build long-lasting, meaningful careers. The program is being designed by Vanderbilt to emphasize its unique environment, mission and strengths.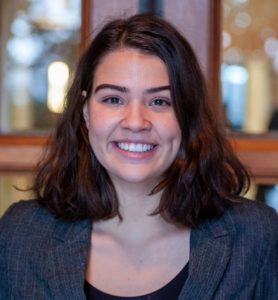 Britto, a Brazilian-American recently diagnosed with epilepsy, is a rising junior majoring in biomedical engineering. Her experiences living with family in Brazil shaped her commitment to ending the effects of poverty on human health, and her diagnosis gave her a renewed appreciation for the doctors and scientists developing cures for debilitating diseases.
"Innovation is seeded in diversity," said Britto. "Anything that makes us different contributes to society's growth and improves science."
Instead of trying to get a summer job amid the pandemic, Britto's status as a MARC scholar has enabled her to spend the season taking a biology course, contributing to journal clubs, attending cancer biology symposiums, learning from engineering grad student mentor Kevin Corn and contributing to breast cancer research in the tumor and tissue microenvironment lab of Marjan Rafat, assistant professor of chemical and biomolecular engineering.
The population size of college-aged students from diverse backgrounds far overshadows how many in this group earn bachelor and Ph.D. diplomas in the life sciences. Of those in underrepresented groups who do earn advanced degrees in life sciences, their presence as faculty members at research institutions or medical schools is limited in favor of joining the biomedical research workforce. Diminishing diversity on campus limits the ability of researchers to think or discover broadly.
"MARC is a program that is enabling access and inclusion to students who typically have not had access to science or science-focused careers," said Doug McMahon, co-director of the MARC program and Stevenson Professor of Biological Sciences. "This program is important not only from the perspective of a just and equitable society but because it will enable researchers to do the best possible science. These principles go hand in hand."
"As the program moves forward we will also be introducing a pre-MARC program to engage freshmen and sophomores," said Katherine Friedman, co-director of the MARC program and vice-chair of the biological sciences department. "Both programs give students a chance to see and feel what it means to do research and have a career in the sciences. We aim to create an atmosphere in which students can visualize themselves in research careers, something that they might not have otherwise been exposed to."
Britto joins five rising juniors in Arts & Science—Anna Bright, Hannah Craft, Cassidy Johnson, Sim Plotkin and Bethanie Stauffer—selected as MARC scholars. Each student is heading toward a Ph.D. or M.D./Ph.D. and is fundamentally interested in conducting research as a career.
In years ahead, McMahon and Friedman expect to have 12 students in the program at any given time. Applications for the 2021 MARC cohort will open as early as late fall and the program will begin in May 2021.
Contact:  Brenda Ellis, 615 343-6314
brenda.ellis@vanderbilt.edu
Posted on Wednesday, July 15, 2020 in biomedical, Lucy Britto, MARC Scholar, Maximizing Access to Research Careers, NIH,Alumni, Biomedical Engineering, Home Features, News, News Sidebar, Research