Caldwell is 2020 Materials Research Society Fellow
Vanderbilt professor Joshua D. Caldwell has been selected as a 2020 Materials Research Society Fellow. The MRS Fellows will be recognized at the society's spring meeting in Phoenix in April.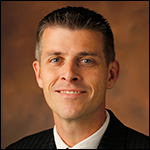 The fellowship recognizes Caldwell for pioneering contributions to the understanding and utilization of polar semiconductors for power electronics and infrared nanophotonics, and for his volunteerism to the MRS and its Government Affairs Committee.
Caldwell, associate professor of mechanical engineering, has merged his prior work in wide band gap semiconductor materials with his efforts in nanophotonics, leading to his efforts to use undoped, polar dielectric crystals for low-loss, sub-diffraction optics.
Caldwell joined the School of Engineering faculty in 2017 from the U.S. Naval Research Laboratory. During his 12 years at the NRL, he was the recipient of three highly competitive Nanoscience Institute Grants, an Edison Award for the top patent in 2014, and several awards for his published works.
Caldwell has published more than 120 papers, owns nine patents and has given more than 70 invited talks and colloquia. He has helped organize multiple conferences and symposia.
He received a bachelor's degree in chemistry from Virginia Tech and a Ph.D. in physical chemistry from the University of Florida.
The MRS Fellow honors members who are notable for their distinguished research accomplishments and their outstanding contributions to the advancement of materials research, worldwide. The maximum number of new fellow appointments each year is limited to 0.2% of the current MRS membership.
Contact: Brenda Ellis, 615 343-6314
brenda.ellis@vanderbilt.edu
Posted on Friday, February 21, 2020 in fellow, Fellowship, Joshua Caldwell, Materials Research Society, MRS,Alumni, Home Features, Mechanical Engineering, News, News Sidebar