Closing out Navy project shows the many moving parts
UNDERGRADUATE VIEWPOINT
By Julia Finfrock, Class of 2021, Civil Engineering
As a Summer Associate for Clark Construction in Chicago, I was assigned to a U.S. Navy building north of the city that was a few months from completion. The project was new housing for more than 600 enlisted military personnel, totaling 160,000 square feet.
My main task was to collect closeout documentation, such as operation and maintenance manuals and parts and service warranties from over 20 independent subcontractors and assemble a comprehensive operation and maintenance manual to present to the Navy.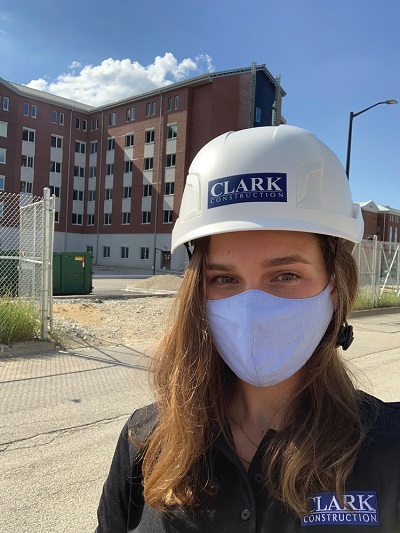 In June, my experience was entirely remote, and I discovered intricate details about the submittal and contracting process, and the building itself, from 1,100 miles away. In July, I moved from Florida to Chicago to begin the onsite portion of my internship. After weeks working on the project, seeing the structure in person was almost surreal. Once on site, my additional responsibilities included creating RFIs, identifying punch list items on the interior and exterior of the building and interviewing employees.
I have always been drawn to construction and was definitely influenced to be a civil engineer. My great-grandfather started a concrete manufacturing plant in 1945 in central Florida, and my grandfather, father and uncles expanded the company into the multifamily housing, retail and student housing markets. The company makes precast concrete components but offers services for the entire building process, from design to closeout. Although I've been exposed to many stages of construction and worked at the company, I was surprised by the number of moving parts that all have to come together simultaneously at the end of the job.
The work I had done in construction before my intern-ship only involved one element of the process at a time, but once the building passes the structural construction phase, many more elements and details than I had ever imagined must come together to make the building functional and livable.
During my final week, I combined 3,000-plus pages of closeout documentation into 15 separate volumes and submitted the final product to the Navy. Maintaining a tracking system helped me develop organizational skills and working with subcontractors improved my communication skills. I have learned so much about the construction and project management. The skills I developed working and learning remotely—communication, document control and time management, to name a few—will prove vital far into the future.