CS undergrad exploring radioisotope power named to Forbes 30 Under 30 List
An engineering undergraduate who leads a team developing a next-generation radioisotope power system to provide non-stop power for months to years at a time has been named to the Forbes'30 Under 30 List.
Tyler Bernstein, Class of 2020, is CEO and co-founder of Zeno Power, which recently finished in the first cohort of the Techstars Starburst Space Accelerator in Los Angeles. Zeno Power also has attracted recent investment from 1517, a venture capital firm that focuses on new companies with young founders.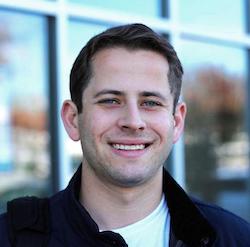 In all, five Vanderbilt University alumni were named by Forbes this year; three are engineering grads, and this is the third of three stories about them. Bernstein and co-founder Jonathan Segal, BS'19, were named in the science category.
Bernstein, who is on leave from Vanderbilt this year, participated in the National Science Foundation I-Corps program at the Wond'ry in 2018. Zeno Power has attracted interest and government funding, too, receiving a letter of support from the Army Futures Command demonstrating interest in the company's technology and an early $50,000 grant from the Air Force through the SBIR program.
Their idea is to turn the heat from decaying radioisotopes into energy to create consistent power in a device no larger than a tabletop. Zeno is developing a lightweight shielding design to integrate with it, creating a power system with long endurance, high density, high ability to scale, and low maintenance. According to Forbes, one of their systems the size of a window air conditioner could potentially power a building for decades using material from nuclear waste to create a steady supply of clean energy.
Because such a system could enhance U.S. energy security and resilience, the U.S. Department of Defense is interested as well. Potential other applications include providing a small clean energy system to serve schools and hospitals in remote locations.
In a recent interview Bernstein, who is from St. Louis, Mo., said Zeno plans to deliver a prototype by the end of 2020. "It's an aggressive schedule, but one of the benefits of being a small startup is that we can move pretty quickly," he said.
Posted on Tuesday, February 4, 2020 in entrepreneur, Forbes, Forbes 30 Under 30, startups, Steve Krahn, Wond'ry,Alumni, Electrical Engineering and Computer Science, Home Features, News, News Sidebar