Dean Paschal helps collect medical supplies locally to help fight pandemic
Cynthia Paschal, Vanderbilt senior associate dean for undergraduate education and a biomedical engineering professor, volunteered March 29 at a Nashville drive to collect personal protective equipment for medical workers to use when treating coronavirus patients.
The Project C.U.R.E. Nashville event at Nissan Stadium was promoted by the Tennessee Titans, and was reported by The Tennessean.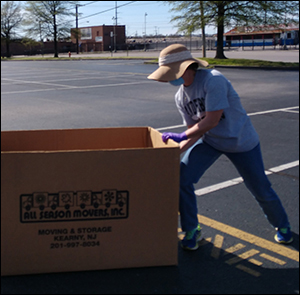 "People need to understand that this personal protective equipment is incredibly valuable," said Paschal, who wore a mask with a smiley face drawn across it. "Most are not re-usable or sterilizable. A health care provider needs to protect themselves, and they also must minimize possible virus transmission from one patient to another.  To do so requires many changes of PPE."
Paschal has a long relationship with Project C.U.R.E. Her students test and repair instruments that Project C.U.R.E. Nashville collects from local hospitals that no longer need them. Project C.U.R.E. then distributes the recycled equipment—like patient monitors and electrosurgical units—to medical facilities in developing countries.
Many of Paschal's students do this volunteering through Vanderbilt's chapter of Engineering World Health while others do so as part of a service learning class Paschal and colleague Nick Adams, research assistant professor of biomedical engineering, teach every other year.  Students in the class also test and repair equipment at the hospitals they visit.
Earlier this month, Paschal, Adams, and 12 biomedical engineering students spent spring break in Guatemala. Read more: BME class repairs medical equipment at 3 hospitals in Guatemala .
Back at Nissan Stadium, a dentist dropped off several boxes of medical gowns. Another donor contributed boxes of N95 masks. Another offered a carton of bleach. By afternoon, volunteers started filling a second pallet with medical items to help local hospitals and first responders.
Contact: Brenda Ellis, 615 343-6314
brenda.ellis@vanderbilt.edu
Posted on Tuesday, March 31, 2020 in coronavirus, COVID-19, Cynthia Paschal, medical supplies, Nick Adams, Project C.U.R.E.,Alumni, Biomedical Engineering, Home Features, News, News Sidebar