Demanding double duty teaches how to take a hit and keep going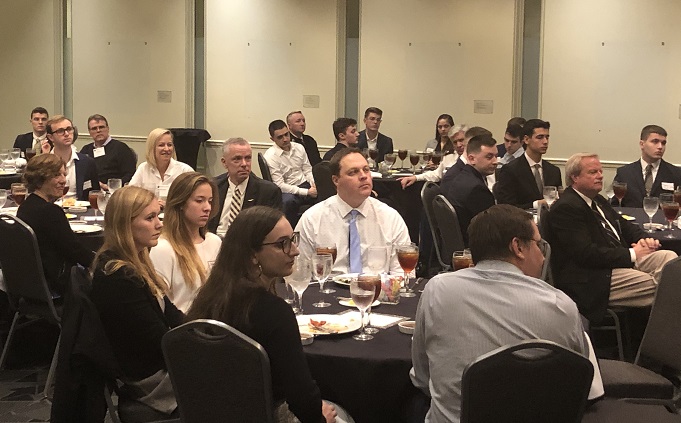 Student athletes and ROTC cadets honored at annual dinner
Sarah Goodale is a competitor. As a biomedical engineering undergraduate, she was an important member of the Vanderbilt Women's Track and Field team, a force in the pentathlon and heptathlon. She still holds a top ten record for Vanderbilt in eight events.
Though she knew her undergraduate research experience was limited, Goodale still applied for PhD programs and a coveted NSF graduate fellowship as a senior. She did not get good news.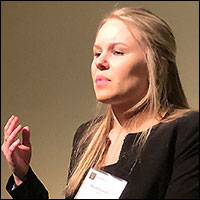 Rather than wallow, Goodale, BE'17, doubled down. She took a full-time job as a research assistant with VUMC Surgical Director of Epilepsy Dr. Dario Englot, assistant professor of neurological surgery and electrical engineering and frequent collaborator with engineering faculty members. Throwing herself into research, Goodale got a first author credit on one peer-reviewed paper, co-author credit on three others and helped colleagues with their own articles.
She applied again, got into Vanderbilt and doctoral programs–and received that NSF fellowship.
Goodale shared her story this week at the annual dinner honoring student athletes and ROTC cadets for their extra effort on behalf of Vanderbilt, juggling difficult majors and demanding extracurricular schedules.
"This is not an easy path," she said. "But athletics and drills, all that practice, they have taught you to take a hit and keep going."
The students also heard from John "JT" Davis, BE'79, an Army ROTC student and mechanical engineering major during his Vanderbilt years. He transitioned to civilian employment after four years of active Army duty that included platoon leader in a Germany-based NATO brigade overseeing nuclear missile response during the Cold War.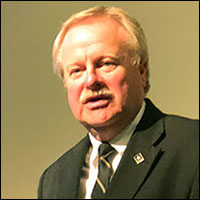 Davis took the students on a brief tour of "Vanderbilt in the Disco Area," displaying photos of door room stereos, an eight-track tape deck, telephones with cords (also known as landlines), ashtrays, a 13-inch black-and-white television set, typewriters and "the computer" students programmed with punch cards.
He urged students to at least learn the basics of a second language for an edge in a global economy.
"You don't take the easy way out," said Davis, who runs his own consulting firm and lives in Greenville, S.C.
Bruce and Bridgitt Evans Dean of Engineering Philippe Fauchet started the annual dinner seven years ago, and Goodale said it was one of her favorite events as an undergraduate.
She now works with Catie Chang, assistant professor of electrical engineering and computer science, in the Neuroimaging and Brain Dynamics Lab studying brain-wide signatures of vigilance, or attention, and developing computational methods for detecting changes in vigilance levels.
"Don't doubt yourself," Goodale said. "You have this character, this voice, this potential that are 100 percent yours."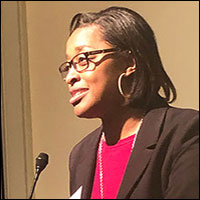 NSF fellowship reviewers saw it in Goodale the second time she applied, saying it was clear she had grit and determination. "She's got drive and passion and doesn't give up," one reviewer wrote.
The group also heard from Interim Vice Chancellor and Athletic Director Candace Lee, former captain of the women's basketball team. Since her recent appointment, Lee said many people have congratulated her, adding that she embodies "The Vanderbilt Way."
"But what is the Vanderbilt way?" Lee asked. "It is to celebrate excellence at every level. The skills you have learned as athletes and ROTC members are transferable in so many ways."
The students honored were:
Class of 2020: Kacie Breeding, BME, Women's Cross Country; Abbey Carlson, ME, Women's Golf; Kendall Derry, BME, Women's Cross Country; James Haley, EE, Marines; Andrew Irvine, CS, Men's Cross Country; Thomas Harrison, BME, Men's Cross Country; Peter Valerius, ES, Army; Christopher Walding, ChemE, Navy; Harrison Wilson, CS, Army.
Class of 2021: Lauren Bergmann, ME, Women's Swimming; Jonah Buchanan, CS, Football; Timothy Degan, ES, Marines; Edward Harpstead, BME, Men's Cross Country; Lauren Potechin, ME, Women's Bowling; Keithian Starling, ES, Football; Caleb Van Geffan, CS, Men's Cross Country.
Class of 2022: Evan Bouck, ME, Navy; Grant Bowlds, ES, Army; Thomas Colicci, ME, Army; Andrew Diamond, ME, Navy; Brian Duncan, ES, Navy; Matthew Estopinal, CS, Men's Cross Country; Marcus Ferreira, undeclared, Men's Tennis; Lauren Harmon, BME, Army; Nicholas Laning, CE, Men's Cross Country; Megan MacGillis, ES, Women's Lacrosse; Matthew McConnell, ME, Marines; Quentin Millora-Brown, ME, Men's Basketball; Lucas Mowery, ChemE, Men's Cross Country; Jack Pantlin, ES, Navy; Gabriela Seberger, ME, Women's Swimming; Alexandra Stuart, ME, Navy; Ana Wallace, ChemE, Women's Cross Country; Clayton Wright, CS, Navy.
Class of 2023: Reece Boggs, BME, Football; Kenneth Brown, ES, Football; Blake Christiansen, ChemE, Navy; Joel Decoursey, ME, Football; William Drake, ChemE, Navy; Andrew Fish, ME, Navy; Adam Fortner, ME, Air Force; Justin Harris, ChemE, Football; Carolina Herrara, ChemE, Air Force; James Metz, BME, Army; Anfernee Orji, Undeclared, Football; Kimya Raietparvar, BME, Women's Soccer; Mary Screws, ES, Navy; Zachary Smith, CE, Army.