Eight engineering students on spring 2020 SEC Academic Honor Roll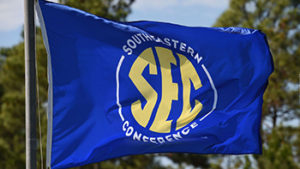 Eight engineering student-athletes have been named to the 2020 Spring SEC Academic Honor Roll. Commissioner Greg Sankey and the league office announced the SEC honor roll July 10. A total of 73 Vanderbilt student-athletes made the list.
The engineering students are:
Abbey Carlson–W Golf–Mechanical Engineering (BE'20)
Brianne Gross–Lacrosse–Engineering Science/Communication Studies (rising junior)
Megan MacGillis–Lacrosse–Engineering Science (rising junior)
Marcus Ferreira–M Tennis–Mechanical Engineering (rising junior)
Kacie Breeding–W Track &Field – Biomedical Engineering (rising senior)
Kendall Derry–W Track &Field–Biomedical Engineering (rising senior)
Sara Tsai–W Track &Field–Mechanical Engineering (BE', ME'20)
Ana Wallace–W Track &Field–Chemical Engineering (rising junior)
The Vanderbilt lacrosse and women's track and field programs each produced 22 representatives on the list, which is based on grades from the 2019 summer, 2019 fall and 2020 spring terms. The baseball (8), men's tennis (7), men's golf (6), women's golf (4) and women's tennis (4) programs also contributed to the Commodores impressive mark.
Student-athletes on the list were required to maintain a 3.0 GPA either the preceding academic year or have a cumulative 3.0 GPA. Prior to nomination, a student-athlete must have successfully completed 24 semester or 36 quarter hours of non-remedial academic credit toward a baccalaureate degree at the nominating institution and have been a team member for the entire NCAA Championship segment.
Eligible honorees include those receiving an athletics scholarship, recipients of an athletics award, and non-scholarship individuals on a team for two seasons.
Contact: Brenda Ellis, 615 343-6314
brenda.ellis@vanderbilt.edu
Posted on Thursday, July 16, 2020 in 2020 Spring SEC Academic Honor Roll, Engineering student-athletes,Alumni, Biomedical Engineering, Chemical and Biomolecular Engineering, Home Features, Mechanical Engineering, News, News Sidebar