Uber product leader 1 of 3 engineering alumni named to 2020 Forbes' 30 Under 30 list
Engineering alumnus Nikhil Goel, BE'13, has been selected for the 2020 Forbes "30 Under 30." The list highlights "600 revolutionaries in 20 industries changing the course—and the face—of business and society."
In all, five Vanderbilt University alumni were named by Forbes this year; three are engineering grads, and this is the first of three stories about them.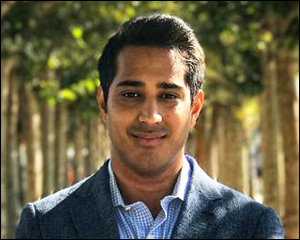 Goel is the head of product at Uber Elevate, a division that he co-founded after working on Uber's emerging markets team. According to Forbes, he worked with NASA and Uber executives to establish a vision for Uber Air, a global network of all-electric, urban air taxis with an anticipated commercial launch in 2023.
His team also works on Uber Copter, a Manhattan-to-JFK helicopter service. He is on the consumer technology list.
Goel, who attended the School of Engineering with the Bruce and Bridgitt Evans, Class of 1981, Honor Scholarship, majored in computer engineering and economics, with a minor in engineering management.
As a summer 2012 intern, Goel served as an Associate Product Manager at Google in Mountain View, Calif. He also has founded two web-based startup companies. His previous engineering internship experiences include Microsoft, SAIC, and NASA Marshall Space Flight Center.
Goel received the Computer Engineering Program Award at the School of Engineering's 2013 Commencement Reception. He also was member of the team that received the Walter Criley Prize, which is awarded for the best paper written on an advanced senior project in electrical engineering.
A native of Huntsville, Alabama, Goel lives in San Francisco.
Contact: Brenda Ellis, (615) 343-6314
brenda.ellis@Vanderbilt.edu
Posted on Tuesday, January 7, 2020 in computer engineering, Forbes 30 Under 30, Nikhil Goel, Uber,Alumni, Electrical Engineering and Computer Science, Home Features, News, News Sidebar