Engineering Associate Dean Chris Rowe receives K.C. Potter service award
Chris Rowe, School of Engineering associate dean for external relations, has received the 2019-2020 K.C. Potter Outstanding Service to Students Award, which is given to a faculty member who provides outstanding service consistently to individual students or student groups through personal advising, development of programs, or improvements to university systems and policies that affect students.
Rowe is faculty adviser to the Undergraduate Honor Council and serves on the Interfraternity Council Formal Accountability Board. He received the honor Sept. 29, 2020, for his service to these organizations at the annual Dean of Students Awards Ceremony, which was held virtually.
K.C. Potter, Vanderbilt's long-serving dean of residential and judicial affairs, retired in 1998 after 36 years at the University as a student and administrator. Potter cared deeply for all Vanderbilt students, particularly marginalized students.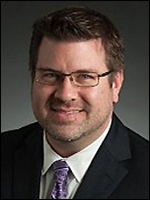 "Working with students for the betterment of our community is why many of us are here. K.C. Potter is a very gracious person and I am fortunate to have known him when I was a Vanderbilt undergraduate. In fact, I had the distinction of sitting in his office once or twice while he explained the virtues of good judgment to me, which makes this award rather poetic," Rowe said.
Mary Helen Davidson, director of the Office of Student Accountability, Community Standards and Academic Integrity, said Rowe is known for being patient with students, listening and offering unbiased opinions. "He's willing to engage in difficult conversations in order to create a safe and healthy environment for our students and to maintain the integrity of accountability community. The staff and our students always enjoy working with him and we look forward to continuing our partnership for years to come," Davidson said.
"The students absolutely adore working with you," said Jeremy Bourgoin, assistant director of OSA and adviser to the Undergraduate Honor Council. "They appreciate your input and in navigating panels. You have certainly done some of the more challenging ones. We really could not get through a year without you and we appreciate all you've done for us."
"I'm honored to receive the K.C. Potter Outstanding Service to Students Award. The Honor Council is a deeply significant institution to me, and I am proud to support its mission. Additionally, I have found my time on the IFC Formal Accountability Board enlightening and enriching," said Rowe, director of Engineering Communications and professor of the practice of engineering management.
Rowe joined the School of Engineering faculty in 2002 and teaches courses in technology strategy, engineering and public policy, applied behavioral science, and project management. Rowe is the Faculty Director of the A. James Clark Scholars Program. He is a member of the Internal Advisory Board of the Wond'ry, part of Vanderbilt's Innovation Center. He is the recipient of the 2015 Edward J. White Engineering Faculty Award for Outstanding Service and other awards for service to the engineering profession, education and training writing, and marketing publications.
Contact: Brenda Ellis, 615 343-6314
brenda.ellis@vanderbilt.edu
Posted on Tuesday, October 6, 2020 in Chris Rowe, Community Standards and Academic Integrity, Dean of Students Awards Ceremony, Interfraternity Council, K.C. Potter Outstanding Service to Students Award, Office of Student Accountability, Undergraduate Honor Council,Alumni, Home Features, News, News Sidebar