Engineering grad student shares how she handles stress during COVID-19
How does a Vanderbilt chemical engineering graduate student navigate her world during a global pandemic?
She keeps regular meetings, sets mini-deadlines for herself, and she cooks.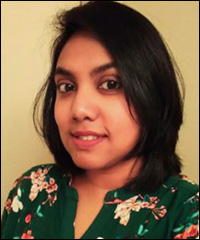 Kazi Tasneem, a Ph.D. candidate in the Department of Chemical and Biomolecular Engineering, is featured in a Society of Women Engineers short-form blog series—Engineering in Crisis—on how SWE members are faring during the COVID-19 pandemic.
In SWE's All Together blog, Tasneem talks about handling stress with information. She searches for facts.
"Lack of information increases my anxiety. I handle my stress by knowing all the facts that cause it. Accepting the situation, focusing on what I can control, and trying not to emphasize what I can't control – are the three things I follow," she said.
"I try to dedicate regular working hours for my research and the rest of the time I dedicate to cooking, exercising, connecting with family and friends and, of course, sufficient sleep."
Tasneem conducts computational research under the supervision of Shane Hutson, professor of physics and of biological sciences, and she is working with Advanced Material Pandemic Taskforce, a global group addressing advances in material science for the prevention and management of global health emergencies.
"I am collaborating on creating and managing the database of advanced materials related to COVID 19, including, but not limited to, scientific work on advanced materials and commercially available products or prototypes under development," Tasneem said. "With my toxicology background, I am also working with its Applied Public Health & Environmental, Health, and Safety Working Group to come up with fast-track road map to address the challenges of conducting urgent toxicological testing for nanomaterials solutions during the crisis."
With a multidisciplinary background—experiences in materials science, chemical and environmental engineering—she has been working on the characterization of toxicants and their effect on the environment and on human health, experimentally and computationally.
Her current research involves computational prediction for drug transport and its toxic effect on humans. She uses powerful modeling tools—computational fluid dynamics—to investigate chemical toxicity in human organ on chip microsystems.
Tasneem has been a member of the Society of Women Engineers since 2010. She serves as the Region D Graduate Representative as well as the WeLocal Liaison. She also participates in the International Graduate Team within GradSWE.
Tasneem earned a master's degree in materials science and engineering at the University of Central Florida. She also received a master's degree in environmental engineering from Carnegie Mellon University. She completed a bachelor's degree in chemical engineering from Bangladesh University of Engineering and Technology.
Contact: Brenda Ellis, 615 343-6314
brenda.ellis@vanderbilt.edu
Posted on Thursday, June 25, 2020 in ChBE, computational research, graduate student, Kazi Tasneem, Society of Women Engineers, SWE,Alumni, Chemical and Biomolecular Engineering, Home Features, News, News Sidebar