Engineering professor Ndukaife wins award in Rising Stars of Light global competition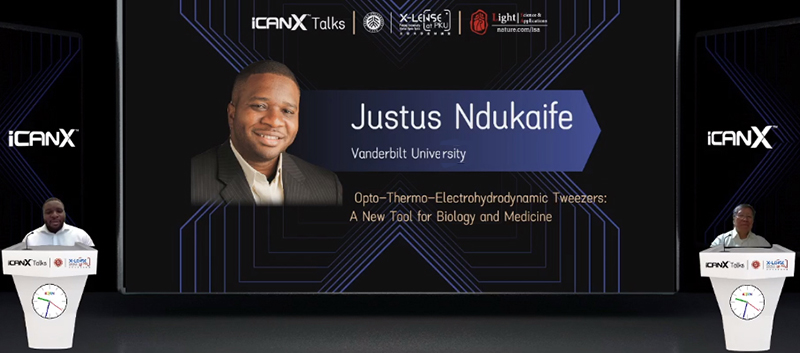 Justus Ndukaife, assistant professor of electrical engineering, spent 20 minutes describing his optical nanotweezers to a panel of five distinguished professors from the United States, Australia, and China during a live online competition—Rising Stars of Light—that has drawn 260,000 viewers worldwide.
After two sessions in which 10 finalists presented their research in a global campaign for the most talented young scientists in optics-related fields, Ndukaife claimed third place and shares it with two other professors—one from Stanford University and one from the Swiss Federal Institute of Technology-Lausanne.
"I am very pleased and honored to receive this notable global recognition highlighting our optical nanotweezer research," Ndukaife said. "I am also honored to share the stage with the other nine finalists who are truly outstanding young researchers from around the globe and to share our latest research to a large global science audience."
The event was held in November and is co-organized by Nature's academic journal Light: Science & Applications and by iCANX, a host of global talks on frontier research topics. The judges rated final candidates' presentations on innovation, impact, and performance.
Ndukaife has developed the first-ever opto-thermo-electrohydrodynamic tweezers, optical nanotweezers that can trap and manipulate objects as small as proteins and viruses. The technique, developed by the professor and Chuchuan Hong and Sen Yang, two graduate students in his group, gives researchers a powerful new tool for the study and perhaps early detection of viruses, cancer, and neurodegenerative diseases.
"Stand-off trapping and manipulation of sub-10 nm objects and biomolecules using opto-thermo-electrohydrodynamic tweezers" was published online in the journal Nature Nanotechnology on August 31, 2020.
The event organizers received applications for the Rising Stars competition from the U.S., China, UK, Germany, Switzerland, Australia, Singapore and Denmark. The selection committee chose 10 final candidates:
Amit Agrawal, NIST, USA, Second place award
Avik Dutt, Stanford University, USA, Third place award
Guangwei Hu, National University of Singapore, Singapore, Candidate award

Junqiu Liu, EPFL, Switzerland, Third place award
Justus Ndukaife, Vanderbilt University, USA, Third place award
Shulin Sun, Fudan University, China, Candidate award
Shuo Sun, University of Colorado-Boulder, USA, Second place award
Giulia Tagliabue, EPFL, Switzerland, First place award
Sui Yang, University of California-Berkeley, USA, Candidate award
Yi Yang, MIT, USA, Candidate award
All the award winners will each receive a monetary prize and a publication fee waiver in Light: Science & Applications.
Contact: Brenda Ellis, 615 343-6314
brenda.ellis@vanderbilt.edu
Posted on Monday, November 30, 2020 in Justus Ndukaife, Light: Science & Applications, Nature Nanotechnology, optical nanotweezers, optics, opto-thermo-electrohydrodynamic tweezers, proteins, Rising Stars of Light, viruses,Alumni, Electrical Engineering and Computer Science, Home Features, News, News Sidebar, Research