Engineering professor wins Sloan Research Fellowship award
Kelsey Hatzell, assistant professor of mechanical engineering, has been awarded a Sloan Research Fellowship, an honor given annually to the brightest researchers early in their careers.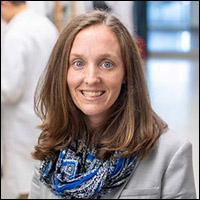 She is among 126 recipients across the United States and Canada who were announced Feb. 12 by the Alfred P. Sloan Foundation. Winners receive a two-year, $75,000 fellowship, which can be used to advance their research.
"To receive a Sloan Research Fellowship is to be told by your fellow scientists that you stand out among your peers," said foundation president Adam F. Falk in an announcement. "A Sloan Research Fellow is someone whose drive, creativity and insight makes them a researcher to watch."
Hatzell's research group focuses on understanding materials systems at far-from-equilibrium states. She is particularly interested in electrified and electrochemical interfaces, and colloidal materials for coating applications. In addition, Hatzell's group focuses broadly on electrochemical systems and how interfacial phenomena can be tailored for advanced energy storage, conversion, and separations applications. She currently examines transport in solid electrolytes for advanced all solid-state lithium metal batteries.
Among recent awards in 2019 and 2020, Hatzell won a prestigious National Science Foundation Early  Career Award, the Ralph E. Power Junior Faculty Award from the ORAU, an Electrochemical Society Toyota 2019-2020 Young Investigator Fellowship, and the Materials Research Society Nelson "Buck" Robinson Science and Technology Award for Renewable Energy.
The Robinson award recognizes Hatzell's contribution to scientific outreach and collaboration with the Joint Undertaking for an Africa Materials Institute. Over the last seven years, Hatzell has been an attendee or invited lecturer at the National Science Foundation-funded institute that brings together scholars from Africa and around the world to form scientific collaborations with a focus on energy materials.
The Sloan Research Fellowships are open to scholars in eight scientific and technical fields: chemistry, computer science, economics, mathematics, computational and evolutionary molecular biology, neuroscience, ocean sciences and physics. Candidates are nominated by their fellow scientists, and winners are selected by independent panels of senior scholars on the basis of the candidates' research accomplishments, creativity and potential to become leaders in their fields.
Contact: Brenda Ellis, 615 343-6314
brenda.ellis@vanderbilt.edu
Posted on Monday, February 17, 2020 in fellow, Fellowship, Kelsey Hatzell, materials research, Sloan Research Fellowship,Alumni, Home Features, Mechanical Engineering, Media, News, News Sidebar, Research