Engineering scholar Katherine Russo receives AAUW fellowship
AAUW programs aim to tackle barriers women face in education
Graduate student Katherine Russo has been awarded a 2020-2021 fellowship from the American Association of University Women. The AAUW awards grants and fellowships to scholars who pursue academic work and lead innovative community projects to empower women and girls. It is one of the world's oldest leading supporters of graduate women's education, beginning in 1888.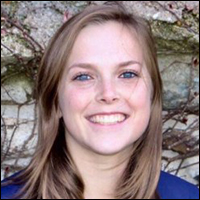 Russo, a recipient of a Selected Professions Fellowship, is a master's student in biomaterials in the School of Engineering. She is a member of the Advanced Therapeutics Laboratory led by Craig Duvall, Cornelius Vanderbilt Professor in the Department of Biomedical Engineering.
Russo's research is focused on poly(thioketal) scaffolds and how this stimuli-responsive material can be used for the delivery of therapeutics to chronic, nonhealing wounds. She investigates how the balance of water repelled or absorbed affects the material, reactive oxygen species (ROS)-mediated degradation properties of the scaffolds, and how the controlled, carrier-free delivery of biologic drugs can be achieved from these scaffolds in a wound.
"I am very fortunate and grateful to receive this award. Supporting and advocating for women in STEM fields has been a large part of my academic career, and the Selected Professions fellowship from the American Association of University Women does a wonderful job in helping women achieve their goals in under-represented careers. I am happy to be a part of such a supportive community," Russo said.
Russo plans a professional career in the biotechnology industry following completion of her degree.
"Katie has been an excellent team player and productive member of the lab," Duvall said. "She has made critical contributions to a large, interdisciplinary biomaterials project in the lab, specifically through her work characterizing material properties of a family of reactive oxygen species responsive polymeric scaffolds. "I expect great things to come out of her future training and career."
For the 2020–2021 academic year, AAUW awarded a total of $3.5 million through seven fellowships and grants programs to more than 200 scholars and community projects and programs promoting education and equity for women and girls.
Contact: Brenda Ellis, 615 343-6314
brenda.ellis@vanderbilt.edu
Posted on Tuesday, November 17, 2020 in AAUW, American, Biomaterials, Craig Duvall Association of University Women, Fellowship, Katherine Russo, PTK scaffolds, wound healing,Alumni, Biomedical Engineering, Home Features, News, News Sidebar