Engineering sophomore named Goldwater Scholar for 2020
An engineering sophomore is among the 2020 recipients of the Goldwater Scholarship—awarded to undergraduate STEM students who show exceptional promise of becoming the nation's next generation of research leaders.
He is among 396 college students across the United States who were selected as Goldwater Scholars from a field of 1,343 nominees. The Goldwater Scholarships are one- and two-year scholarships that contribute up to $7,500 per year toward educational expenses.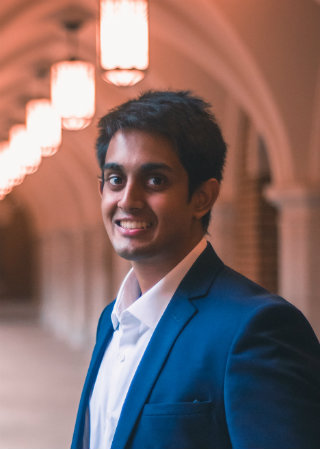 Ashwin Kumar, of Irving, Texas, is enrolled in the School of Engineering with a triple major in computer science, neuroscience and applied math.
"Ashwin works with three faculty members in two departments on impactful research projects while also leading one student organization and serving as an officer of another," said Philippe Fauchet, Bruce and Bridgitt Evans Dean of Engineering. "Goldwater Scholars are extraordinary students, and I congratulate Ashwin on the award of this prestigious scholarship."
As an undergraduate, Kumar has been conducting interdisciplinary research between the Human Imaging Lab, directed by Seth Smith, associate professor of radiology and radiological sciences; the Medical Analysis and Statistic Interpolation Lab, directed by Bennett Landman, associate professor of electrical engineering, computer engineering and computer science; and with Kurt Schilling, research assistant professor of radiology and radiological sciences.
"I am pursuing collaborative image acquisition and analysis research to create and analyze pediatric spinal cord maps for detecting pediatric pathologies," Kumar said. "Specifically, I have conducted random effects modeling to better understand pediatric spinal cord development through Jacobian analysis."
A Vanderbilt Chancellor's Scholar, Kumar aspires to earn a doctorate in biomedical engineering, with a specialization in imaging science. He plans to study the intersection among image analysis, high performance computing and statistical optimization. Conducting research on biomaterial optimization and teaching at the university level are among his career goals.
Kumar serves as president of Vanderbilt Project RISHI, which works to provide financially sustainable solutions to core problems within Indian villages. He is also secretary of the Vanderbilt Biomedical Engineering Society.
Two other Vanderbilt recipients, Abinaya Ramakrishnan and Amelia Taylor, are enrolled in the College of Arts and Science.
The Goldwater Scholarship Program, established by Congress in 1986 in honor of the late Sen. Barry Goldwater, seeks to foster and encourage outstanding students to pursue research careers in the fields of the natural sciences, engineering and mathematics. Vanderbilt is among 461 institutions whose institutional representatives submitted nominations for 2020.
Craig Duvall, professor of biomedical engineering and director of undergraduate studies, served on this academic year's nomination and review committee, with three other faculty members.
For more information on the Goldwater Scholarships, email Jaclyn Sheridan, associate director of post-baccalaureate opportunities at the Career Center.
Contact: Brenda Ellis, 615 343-6314
brenda.ellis@vanderbilt.edu
Posted on Thursday, April 2, 2020 in Ashwin Kumar, computer science, Goldwater Scholar, Goldwater Scholarship,Alumni, Electrical Engineering and Computer Science, Home Features, News, News Sidebar