Engineering Triple 'Dore selected for 2020 Student Media Hall of Fame class
A Vanderbilt Television pioneer-turned-rocket scientist is one of five newest members of the Vanderbilt Student Media Hall of Fame.
Patrick Taylor, credits his 12 continuous years of working in student media with helping launch his career at the U.S. Army Combat Capabilities Development Command Aviation and Missile Center in Huntsville, Alabama.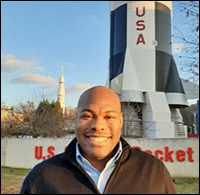 Taylor, a Triple 'Dore who was raised in White House, Tennessee, was the unofficial engineer for Vanderbilt Television during its early days in the Lupton Hall basement of Branscomb Quadrangle.
"Even in elementary school, I was fascinated with both the creative and technical aspects of video, so I quickly headed down the stairs from my Branscomb dorm room to the VTV studio," Taylor said. "In 1994, everything was on tape with a lot of cutting and splicing. I embraced the role of 'let's figure out how to do it' with everything from recording to mixing and then editing the final product."
One of Taylor's favorite memories was broadcasting Vanderbilt basketball games live from Memorial Gym. After he secured permission from Vanderbilt Athletics to broadcast games not being carried by the national networks, Taylor and his VTV colleagues set up the first fiber optic link from Branscomb to the gym.
During Taylor's sophomore year, he hosted a WRVU show called TV Time with Patrick, spotlighting songs from popular television programs and movies, show tunes and more. While that program went on hiatus, he returned to WRVU with a Friday night talk show on social issues and other timely topics. Taylor also served on the VSC board of directors.
Taylor stayed focused on electrical engineering while earning a bachelor of engineering in 1998, master of science in 2003 and doctorate in 2006. "My introduction to the Aviation and Missile Center began with a request from my engineering department to help some undergraduate students with their senior project," Taylor said. "They needed technical assistance with a video library on missile and rocket testing they were compiling for the Aviation and Missile Center. I was introduced to some of the folks at the center and accepted a position there after graduation."
Taylor serves as head of the electrical engineering group for the missile propulsion branch and the power technology lead for the entire center. He also is the de facto video producer for many of the center's projects, including community outreach initiatives for Huntsville city schools. And he is proud to be the second of three brothers to graduate from the School of Engineering, with Travis Taylor earning his bachelor of engineering in 1998 and Shawn Taylor following in both of their footsteps in 2005.
Taylor maintained an entrepreneurial spirit throughout his days with student media and transferred the skills he learned there to his engineering career. "I encourage young people to be open to educational experiences not directly related to their majors because these ventures often shape their career paths in unexpected and beneficial ways."
The Student Media Hall of Fame was established in 2009 to honor Vanderbilt University alumni who have achieved outstanding personal or professional accomplishments and/or made distinguished and lasting contributions to their field and/or to society in general. The names of the five new inductees will be added to a permanent Hall of Fame display in Sarratt Student Center. The other 2020 honorees are Eugene H. Vaughan, BA'55; John Bloom, BA'75; Kathleen Smith Barry, BA'80; and Mark Bechtel, BA'93.
---
Contact:  Brenda Ellis, 615 343-6314
brenda.ellis@vanderbilt.edu