Evans, Rothschild elected to second terms on Vanderbilt Board of Trust
Bruce R. Evans, BE'81, chairman of the Vanderbilt University Board of Trust, was elected to his second three-year term as chair at the board's April 16, 2020, meeting. In addition, Jeffrey J. Rothschild, BA'77, MS'79, was elected to a second three-year term as vice chair.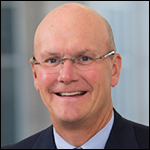 Evans and Rothschild are graduates of the Vanderbilt School of Engineering. Evans graduated magna cum laude with a B.E. in mechanical engineering and economics in 1981. Rothschild earned two degrees from Vanderbilt, a bachelor of arts in 1977 and a master of science in computer science in 1979.
The board elected four new members: Adena Friedman, MBA'93, and Cindy Kent, MBA'99 and MDiv'01, will serve five-year terms. The board also elected Daniel Lovinger, BA'87, to a two-year term as alumni trustee.
In addition, senior Nicholas Gardner-Serna was elected to be a Young Alumni Leader for a two-year term beginning July 1, 2023, following his three-year term on the board of the Vanderbilt Alumni Association. Damonta Morgan, BA'17, will begin his two-year term on the board as a Young Alumni Leader on July 1.
"I want to warmly welcome our new board members, who share our commitment and passion for elevating Vanderbilt's role as one of the world's top-tier universities for scholarly research, creative teaching and service to society," said Evans. "It will be wonderful to see the impact of their diverse talents and resources on Vanderbilt's bright future."
Alexander C. Taylor was re-elected to a second five-year term. Courtney Pastrick and Ross Perot Jr. were appointed emeriti trustees effective June 30 in honor of their many contributions throughout their two successful terms on the board.
Nora Wingfield Tyson, BA'79, was elected vice chair, succeeding Jon Winkelried at the completion of his term. Tyson, a retired vice admiral in the United States Navy and former commander of the Navy's Third Fleet, was the first woman to lead a U.S. Navy Ship Fleet. She is currently chairing the Board of Trust's ad hoc committee to support the university's response to COVID-19.
Contact: Brenda Ellis, 615 343-6314
brenda.ellis@vanderbilt.edu
Posted on Wednesday, April 22, 2020 in Bruce R. Evans, Jeffrey J. Rothschild, Vanderbilt University Board of Trust,Alumni, Electrical Engineering and Computer Science, Home Features, Mechanical Engineering, News, News Sidebar