Federal support crucial to engineering research, Fauchet tells U.S. Congressional staffs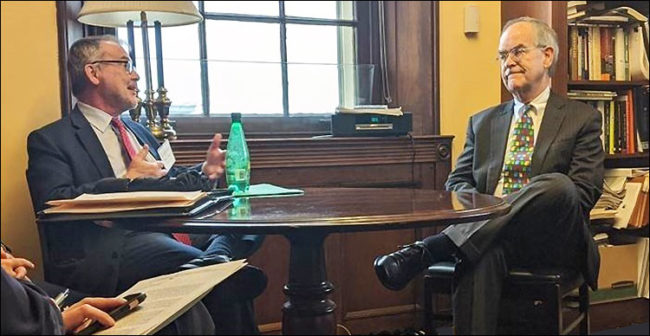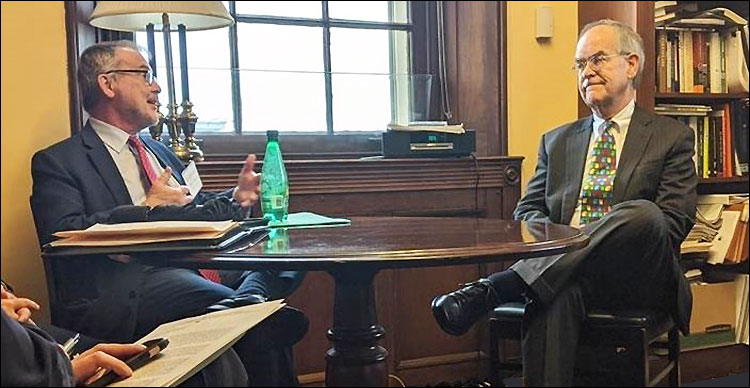 United States competitiveness, workforce development and university partnerships were topics of interest for Philippe Fauchet, Bruce and Bridgitt Evans Dean of Engineering, and members and staff of the Tennessee congressional delegation earlier this month in Washington, D.C.
Fauchet also emphasized the crucial need for continued across-the-board federal support for engineering education and research – in particular through partnerships with the National Science Foundation, the National Institutes of Health, and the departments of  Defense and Energy.
The visit is part of the American Society of Engineering Education's Public Policy Colloquium congressional advocacy day. The event brings together engineering deans from across the country to advocate for the most pressing federal policies that impact engineering education and research.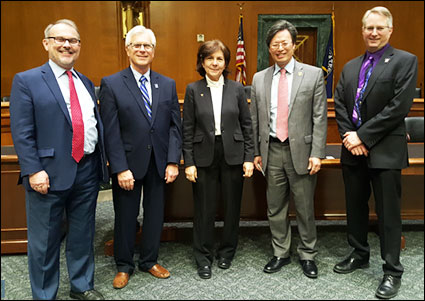 Fauchet's colleagues from Tennessee Tech University, the University of Memphis, the University of Tennessee-Chattanooga and the University of Tennessee-Knoxville joined him on Capitol Hill. The meetings were organized and led by Vanderbilt's Office of Federal Relations.
Fauchet met with Congressman Jim Cooper (D-TN), as well as with staff from the offices of Senators Lamar Alexander (R-TN) and Marsha Blackburn (R-TN) and Congressman Steve Cohen (D-TN). A high priority for these meetings was to urge legislators to build upon the commitment to engineering research and education programs made in the recently passed FY 2020 spending bills as the FY 2021 process gets underway.
Fauchet stressed the importance of engineering research and the education enterprise—and the people who support it—which remain among our nation's greatest assets. At the center of these discussions was a recent National Science Board report that says the U.S. remains the world's top research and development performer but China continues to close the gap, with an average annual growth rate that is currently nearly three times higher than that of the U.S.  Ensuring our nation's continued success and reinforcing U.S. global competitiveness requires sustained, strategic federal investments, he said.
"I'm always eager to tell the story of how Vanderbilt partners with the federal government," said Fauchet. "During these meetings, I was able to share the direct, positive impact of federal support for engineering research and education programs on Vanderbilt and Tennessee, which include allowing us to continue research in cutting-edge technology, to educate students at the undergraduate and graduate level, and to foster deeper relationships with our industry and national lab partners."
During his meetings, Fauchet called attention to the importance of NSF as a critical partner in funding both research and STEM education. The NSF plays a critical role in supporting the fundamental research that so often forms the basis of work done by other research agencies. Without the "building blocks" that NSF provides, many other research agencies could not be successful, Fauchet noted.
"We're grateful to Dean Fauchet for helping us advocate for continued robust investments in engineering research and education," said Christina West, associate vice chancellor for federal relations. "He and his colleagues from across the state are able to illustrate to our members of Congress and their staffs the many partnerships their schools have with local businesses and how they are responding to Tennessee's workforce needs. Undergirding all of these partnerships and education programs is federal funding from agencies such as NSF, NIH, and the Departments of Defense and Energy."
Contact: Brenda Ellis, 615 343-6314
Brenda.ellis@vanderbilt.edu
Posted on Friday, February 14, 2020 in ASEE Public Policy Colloquium, engineering deans, engineering education, engineering research, federal partnerships, Philippe Fauchet, U.S. competitiveness,Alumni, Home Features, Media, News, News Sidebar