Five engineering students appointed to 2020 graduating student committee
A new advisory group composed of 22 students from the Class of 2020 will provide feedback and engage in planning their postponed Commencement ceremony and related events that will now take place in May 2021.
The extraordinary action of delaying this year's Commencement events, originally scheduled for May 6–8, was announced in order to protect the health and safety of the entire Vanderbilt community due to the COVID-19 outbreak.
The Commencement 2020 Graduating Student Committee, comprised of undergraduate, graduate and professional students, is charged with deliberating ideas and presenting planning recommendations. The committee will act as collective spokespersons for their peers, upholding century-old traditions while working to honor and engage their class in all that is created.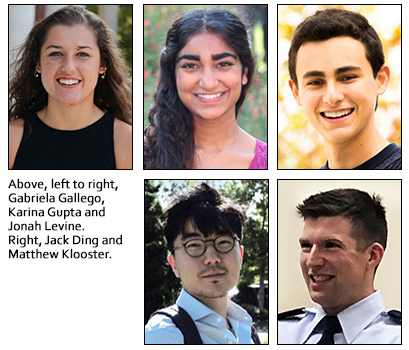 Three engineering undergraduates, one master's student and one doctoral student are members of the committee. They are:
Gabriela Gallego – electrical engineering
Karina Gupta – engineering science
Jonah Levine – chemical engineering
Jack Ding – environmental engineering, Ph.D. expected May 2020
Matthew Klooster – civil engineering, M.Eng. expected May 2020
"In light of the profoundly difficult decision that was made regarding postponement, it is of the upmost importance that we engage a diverse group of student leaders from across campus to chart a collaborative path forward," said Interim Chancellor and Provost Susan R. Wente. "We are devoted to ensuring that both this year's honoring of the Class of 2020, and next year's rescheduled festivities, reflect the hopes and expectations of this incredibly special moment and honor the outstanding achievements and accomplishments of the Class of 2020."
The Commencement and Special Events office is working directly with the student committee and will be reviewing options with campus partners, including the schools and colleges, as plans are developed.
Contact: Brenda Ellis, 615 343-6314
brenda.ellis@vanderbilt.edu
Posted on Tuesday, April 14, 2020 in Commencement, Commencement 2020 Graduating Student Committee, COVID-19, Gabriela Gallego, Jack Ding, Jonah Levine, Karina Gupta, Matthew Klooser,Alumni, Chemical and Biomolecular Engineering, Civil and Environmental Engineering, Electrical Engineering and Computer Science, Home Features, News, News Sidebar