George E. Cook, engineering associate dean, emeritus, dies
George E. Cook, associate dean for research and graduate studies and professor of electrical engineering, emeritus, died Monday, Sept. 14, 2020. He was 82.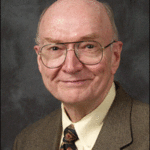 Cook received his undergraduate degree in 1960 and his Ph.D. in electrical engineering in 1965 at Vanderbilt. He earned a master's degree in electrical engineering from the University of Tennessee in 1961. He joined the Vanderbilt engineering faculty as an instructor in 1963 and was promoted to full professor in 1973. Through the years, Cook served the school in a number of leadership roles as well as advising 45 masters graduates and 30 Ph.D. graduates.
Cook was inducted into the School's Academy of Distinguished Alumni in 2009. Although he was named Emeritus Professor in 2006, he continued to serve the School of Engineering as Associate Dean for Research and Graduate Studies, to teach, and to do research.
Cook received the Edward J. White Engineering Faculty Award for Excellence in Service in 2007.  Kenneth F. Galloway, then the dean of the School of Engineering, cited Cook's numerous contributions during his 44 years of service to the school. "He was a wonderful man and fantastic colleague. I benefited from his knowledge and his wisdom," Galloway said. The White Engineering Faculty Award recognizes leadership in a variety of settings, whether on faculty committees and councils or with student and alumni groups.
Cook's research in the areas of robotics and industrial automation resulted in a number of U.S. and foreign patents on welding technology. He was a registered professional engineer. As an entrepreneur, he created several companies that specialized in robotic automated welding systems.
His work has been recognized with numerous awards, such as the James F. Lincoln Foundation's Gold Award, the Franklin-Jefferson Award given by the Small Business High Technology Institute, the American Welding Society's Comfort A. Adams Lecture Award and the 1993 Adams Memorial Award, and the NASA Space Act Award in 1987 for his work in development of the graphical simulation software known as ROBOSIM. He was a fellow of the Institute of Electrical and Electronics Engineers and a fellow of the American Welding Society.
There will be no services. He is survived by his wife, Mary, of Brentwood, Tennessee.
Contact: Brenda Ellis, 615 343-6314
brenda.ellis@vanderbilt.edu
Posted on Tuesday, September 15, 2020 in electrical engineering, emeritus associate dean, emeritus professor, George E. Cook,Alumni, Electrical Engineering and Computer Science, Home Features, News, News Sidebar