Kidambi receives ECS-Toyota Young Investigator fellowship for fuel cell research
Piran Kidambi, assistant professor of chemical and biomolecular engineering, is one of three recipients of an Electrochemical Society Toyota 2020-21 Young Investigator Fellowship awarded for projects in green energy technology.
The fellowship is a partnership between the ECS and Toyota Research Institute of North America, a division of Toyota Motor North America. with the goal of promoting innovative and unconventional technologies from electrochemical research.
Fellows receive $50,000 in grants to conduct the research outlined in their proposals, a one-year complimentary ECS membership, and they will publish or present their findings. Depending on research progress and results, Toyota may enter into a research agreement with the recipient to continue the work.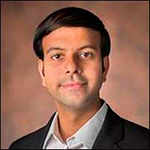 In his proposal—"Atomically Thin Membranes for Advanced Next-Generation Fuel Cells"—Kidambi's research group aims to help alleviate three main challenges in the transportation industry: replace oil as an energy source, reduce CO2 emissions and prevent air pollution.
"This fellowship allows us to pursue research that can offer transformative advances for next-generation transportation while addressing environmental concerns," Kidambi said.
Broadly, Kidambi's research advances the science and technology for scalable nanomaterial synthesis, leveraging the intersection between in-situ metrology, process engineering and material synthesis. The goal is bottom-up novel materials design and synthesis for applications in energy, membranes, electronics, catalysis, metrology, environmental protection and healthcare.
Kidambi received a five-year 2020 National Science Foundation Faculty Early Career Development grant earlier this year. He also has received the ACS Petroleum Research Fund Doctoral New Investigator Award and Oak Ridge Associated Universities—the Ralph E. Powe Junior Faculty Enhancement Award. He joined the Vanderbilt engineering faculty in 2017.
Posted on Friday, July 3, 2020 in atomically thin membranes, awards for electrochemical engineering students, fuel cells, Piran Kidambi,Chemical and Biomolecular Engineering, Home Features, News, News Sidebar, Research